Baked Seafood Recipes
As an Amazon Associate I earn from qualifying purchases.

The best of both worlds - baked seafood recipes - make up your recipe and leave it in the oven to cook itself.

What could be simpler than taking some fish, pouring over some wine or stock and herbs and leaving it to cook on its own.

I have a selection of fish recipes from around the world.



---
Seafood cooked with tomatoes, wine, in paper, in foil parcels,with onions and pepper, ratatouille, au gratin, pasta bakes...
Spicy gougons with lovely dips for a finger style buffet.
Stuffed salmon and sea bass.
From the exotic to the simple, elaborate to quick.
Many of these dishes can be prepared in advance - say before you go out to work - and then when you get home, switch on the oven and it cooks itself in next to no time.
Click on any of the photos to go to the recipe - enjoy!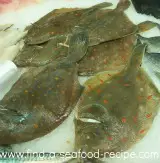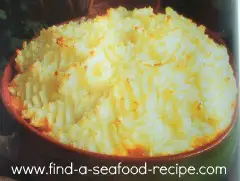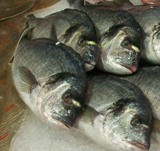 You may also like these recipes
Some of the links on this site include affiliate links, providing Find-a-Seafood-Recipe a small percentage of the sale at no additional cost to you. 

Baked Seafood Recipes
Subscribe to Seafood Recipe News - complete the form below.
Your email address is secure and will *only* be used to send Seafood Recipe News. When you confirm your subscription, you will be taken to a page where you can access your free eCourse. Complete the form and it will arrive over the following five days.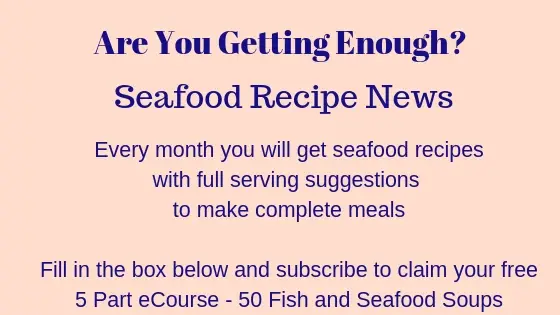 Baked Cod Recipe
Quick and delicious - Cod Portuguese. Tomatoes, pepper and paprika go to make this an authentic tasting dish.

Baked Cod
Baked cod with a prawn sauce - lovely family meal.

Baked Dover Sole
Delicious and simple dover sole with wine, shrimp and leek sauce

Baked Fish in Sauce
A versatile baked fish dish - ideas to use different fish, toppings, sauces and instructions to make the sauce.

Baked Trout
A method of baking fish in roasting bags - cut down on the smell and washing up in one fell swoop - that's for me ;-)

Baked Fish Recipes
Delicious Halibut with Mussels and Baked Sea Bream. Including guidelines for cooking large whole fish.

Baked Whole Fish
Baked Trout en Papillotte. This classic method of cooking in paper is suitable for any small whole fish.






Braised Cod with Tomatoes and Olives
This cod fish recipe is worthy of a dinner party. It is quick to prepare and really tasty...

Cat Fish with Ratatouille
A tasty succulent method of baking cat fish over a bed of ratatouille. Mop up the juices with some fresh crusty bread for a complete meal in one pot.

Enchilada
Basa Fish goes Mexican! Seafood Enchiladas - tortillas with a seafood filling, spicy tomato sauce and topped with cheese.

Fish Pie
Lovely golden puff pastry encasing fish in sauce - let the kids help you roll out and decorate this pie.

Greek Baked Seafood Recipes
A couple of mediterranean style baked fish recipes using tomatoes, olives, wine, mmm... lovely

Fish Pie Recipe
A tasty combination of white and smoked fish and vegetables with a crumble topping - a lovely family meal.
Fisherman's Pie
Lovely mixed seafood in a white sauce with a mashed potato topping. Good enough for a dinner party or as comforting nursery food.
Grouper Fish Recipes
A couple of really tasty grouper fish recipes. One with courgettes, onions and tomatoes baked au gratin and the other with tomatoes, olives and wine - delicious.

Halibut in Foil Parcels
Halibut with leeks and tomatoes baked in foil parcels. For the best effect, let your guests open them at the table - mmm...


Honey Roast Salmon
Quick and simple enough for a family meal or a dinner party - how about a meat free Sunday roast?


Lo Carb Baked Fish Recipes
Lo Carb doesn't have to be boring. Here are a couple of baked seafood recipes for Cod in Cider and Plaice in Wine - delicious AND low in carbohydrate.

Lemon Pepper Fish Recipe
A simple baked cod dish with lemon and chopped chilli pepper - quick to prepare and very tasty.

Mackerel in Cider
Mackerel is high in Omega 3s and good for a healthy heart - here it's cooked in cider - simplicity itself.
One Dish Baked Fish
A couple of quick, easy one dish baked seafood recipes from Penny Pinching Grandma

Orange Roughy Fish Recipes
Orange Roughy Fish with fennel and tomatoes. A delicious lo carb recipe - if you're following the Atkins Diet, this dish contains 4.5g carbohydrates per serving.

Pickled Fish Recipes
Easy baked seafood recipes for pickled mackerel and herrings, plus ideas for other mixtures. Includes a link to - gravad lax - pickled salmon or trout.

Roasted Monkfish
One of my favorite fish roasted simply - a fabulous dish - give it a try, you won't be disappointed.

Rock Fish Recipes
Two delicious baked seafood recipes for rock fish (catfish, rock salmon, rock turbot) one casseroled in cider and one with tomatoes. Easily adaptable for different types of fish.

Sea Bass with broccoli and potatoes
Delicious baked sea bass with rosemary potatoes and broccoli, finished with a buttery sauce from the roasting juices.

Seabass
Seabass with fennel and olives - a really simple baked seafood recipe which would be good for a family meal or an impressive dinner party.

Seafood Au Gratin #1
Delicious Cod Au Gratin - makes a lovely family meal.

Seafood AuGratin #2
Luxurious Plaice with Prawns Au Gratin. A dish fit for entertaining.

Seafood Au Gratin
This seafood au gratin recipe uses a mixture of shrimp, scallop and flounder.

Stuffed Baked Seafood
Recipe for Stuffed Trout. General tips about types of fish suitable and cooking times. Try Mullet, Bream, Bass, Mackerel with this delicious stuffing.

Warm Salmon Salad
Warm Salmon on a bed of mixed salad with a cool and refreshing minty yoghurt dressing - just right for a summer's day.

Whiting au Gratin
Lift the humble whiting up to dinner party standards