Seafood Au Gratin 
As an Amazon Associate I earn from qualifying purchases.

This seafood au gratin recipe was submitted by Cafe Hobson - it's a fantastic combination of mixed seafood. 
It makes for a very tasty and substantial meal - lots of different seafood combining to make a great experience.
You start off with a crabmeat crusty base, add fish in sauce and top with cheese - fantastic :-)
Give it a try and tell me what you think.
---
Baked Seafood Au Gratin
1 onion, chopped
1 green bell pepper, chopped
1 cup butter
1 cup all−purpose flour
1 pound fresh crab meat
4 cups water
1 pound medium shrimp, peeled and deveined
1/2 pound bay scallops
1/2 pound flounder fillets
3 cups milk
1 cup shredded sharp Cheddar cheese
1 tablespoon distilled white vinegar
1 teaspoon Worcestershire sauce
1/2 teaspoon salt
1 pinch ground black pepper
dash hot red pepper sauce
1/2 cup grated Parmesan cheese
Lightly grease one 13x9x2 inch baking dish. In a heavy skillet, saute the onion and the pepper in 1/2 cup of the butter or margarine.
Cook until tender. Stir in 1/2 cup of the flour and cook over medium heat for 10 minutes, stirring frequently. Add the crabmeat and stir well. Press this mixture into the bottom of the prepared baking dish and set aside.
In a large Dutch oven, bring the water to a boil. Add the shrimp, scallops and flounder. Simmer for 3 minutes. Drain and reserve 1 cup of the cooking liquid and set the seafood aside.
Preheat oven to 350F. In a heavy saucepan, melt the remaining 1/2 cup butter over low heat. Stir in the remaining 1/2 cup flour.
Cook and stir constantly for 1 minute. Gradually add the milk plus the 1 cup reserved cooking liquid. Raise heat to medium and cook, stirring constantly, until the mixture is thickened and bubbly. Stir in the shredded Cheddar cheese, vinegar, Worcestershire sauce, salt, pepper, and hot sauce. Add the cooked seafood and stir gently.
Spoon the seafood mixture over the crabmeat crust and sprinkle with the Parmesan cheese. Bake in the preheated oven for 30 minutes or until lightly browned. Serve immediately.

Some of the links on this site include affiliate links, providing Find-a-Seafood-Recipe a small percentage of the sale at no additional cost to you. 

You may also like these recipes
Subscribe to Seafood Recipe News - complete the form below.
Your email address is secure and will *only* be used to send Seafood Recipe News. When you confirm your subscription, you will be taken to a page where you can access your free eCourse. Complete the form and it will arrive over the following five days.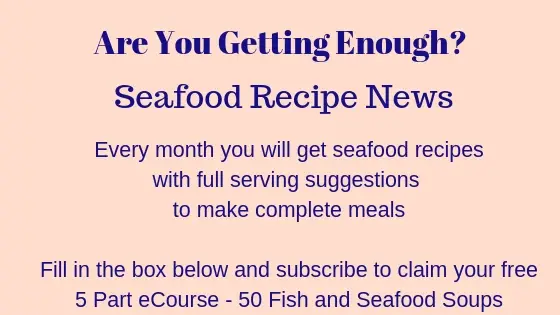 Seafood Au Gratin
By Liz Alderson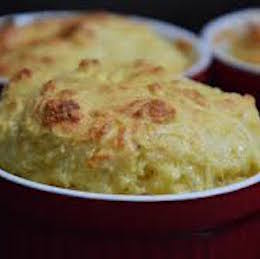 Fabulous seafood mixture topped with cheese and baked in the oven until it's golden.
Prep Time: 15 minutes

Cook time: 30 minutes

Yield: 4

Main Ingredient: crab, shrimp, scallops, white fish, cheese