Monk Fish Recipes


As an Amazon Associate I earn from qualifying purchases.

Roasted Monk Fish
I love monkfish and this is one of the easiest monk fish recipes I have ever found.
If you want a sauce with this then click here for a lovely tomato sauce recipe.
Serve this monkfish with the sauce, some new potatoes and buttered vegetables.
If you've any leftovers, then keep them refrigerated and eat them yourself when nobody's looking - or you could share with your family and make fish cakes :-)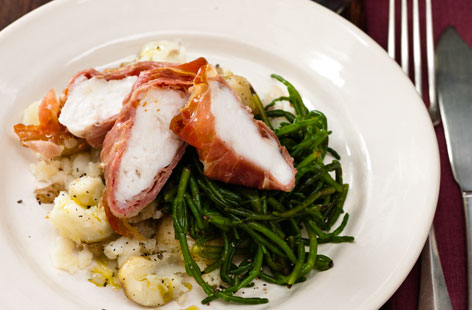 ---
Roasted Monkfish
1 piece of monk fish about 3lbs (1.5k) in weight
1 very fat garlic clove - or more if you like - sliced
black pepper
Olive oil
Slices of thin ham
Get your oven hot - Gas Mark 7, 425F or 220C
Cut slits in the flesh and insert slivers of garlic - go for it:-)
Wrap the fillet in parma ham and tuck the edges in.
Brush the tail with oil and then season with pepper.
Bake in the oven for 30 to 40 minutes until it's cooked through - firm to the touch. You might need to allow an hour or so.
Now - how easy was that!
You only eat the tails of monkfish - it is one ugly fish and consists of a head (very ugly) and a tail - very tasty - it's got a face that only a mother could love. 
It's a very deep sea fish and is quite expensive - the only edible meat coming from the tail and cheeks. They are normally caught at around 3 feet (one metre) long and 4 to 5 feet is considered a really good size.
It has a membrane covering the tail and it's a good idea to remove it if you can - if you don't, the meat scrunches up when it cooks and it doesn't look as nice. 
There is one large bone running through the middle, which is easily avoided - if you remove it before cooking, then you'll need to 'truss' the piece back together with string - I don't bother - it's easy to remove when you're serving it.
Halibut recipes would easily substitute for monk fish recipes as they are a similar meaty texture and need to let the fish 'be the star'. 
Other pages for monk fish recipes - halibut is a good substitute either way
Some of the links on this site include affiliate links, providing Find-a-Seafood-Recipe a small percentage of the sale at no additional cost to you. 

Subscribe to Seafood Recipe News - complete the form below.
Your email address is secure and will *only* be used to send Seafood Recipe News. When you confirm your subscription, you will be taken to a page where you can access your free eCourse. Complete the form and it will arrive over the following five days.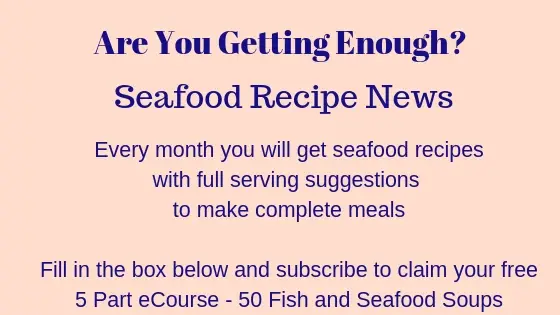 Roasted Monkfish
By Liz Alderson, Mar 21, 2017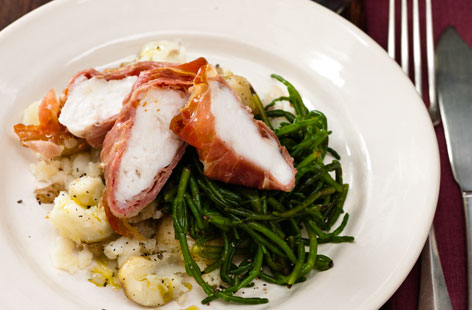 Simple method of cooking on of the best fish you can buy - roasted monkfish
Prep Time: 5 minutes

Cook time: 30 minutes

Yield: 4

Main Ingredient: Monkfish, garlic