Monk Fish Recipes


Roasted Monk Fish
I love monkfish and this is one of the easiest monk fish recipes I have ever found.

If you want a sauce with this then click here for a lovely tomato sauce recipe.

Serve this monkfish with the sauce, some new potatoes and buttered vegetables.

If you've any leftovers, then keep them refrigerated and eat them yourself when nobody's looking - or you could share with your family and make fish cakes :-) 
---
Roasted Monkfish
1 piece of monk fish about 3lbs (1.5k) in weight
1 very fat garlic clove - or more if you like - sliced
black pepper
Olive oil
Slices of thin ham
Get your oven hot - Gas Mark 7, 425F or 220C
Cut slits in the flesh and insert slivers of garlic - go for it:-)
Wrap the fillet in parma ham and tuck the edges in.
Brush the tail with oil and then season with pepper.
Bake in the oven for 30 to 40 minutes until it's cooked through - firm to the touch. You might need to allow an hour or so.
Now - how easy was that!
You only eat the tails of monkfish - it is one ugly fish and consists of a head (very ugly) and a tail - very tasty.
It has a membrane on it and it's a good idea to remove it if you can - if you don't, the meat scrunches up when it cooks and it doesn't look as nice.
There is one large bone running through the middle, which is easily avoided - if you remove it before cooking, then you'll need to 'truss' the piece back together with string - I don't bother - it's easy to remove when you're serving it.
You may also like these recipes
Find A Seafood Recipe

>
Baked Seafood Recipes
> Monk Fish Recipes
Roasted Monkfish
By Liz Alderson, Mar 21, 2017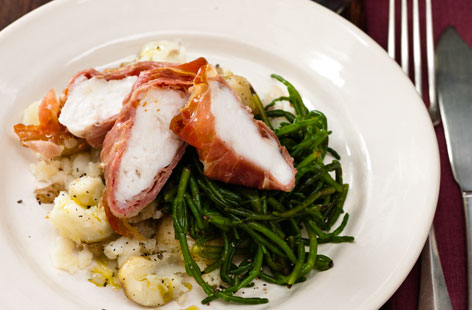 Simple method of cooking on of the best fish you can buy - roasted monkfish
Prep Time: 5 minutes

Cook time: 30 minutes

Yield: 4

Main Ingredient: Monkfish, garlic
---
Some of the links on this site include affiliate links, providing Find-a-Seafood-Recipe a small percentage of the sale at no additional cost to you. You are not obliged to use these links to make a purchase, but if you do, it helps to support this site and keep the content free.

---
---