Orange Roughy Fish Recipes
As an Amazon Associate I earn from qualifying purchases.

Orange roughy fish recipes - any recipe for firm white fish fillets will work with orange roughy fish, but here's a great idea for using this fish. 
If you're following the Atkins Diet, this dish contains 4.5g per serving - and will serve 6.
You may struggle to find this particular fish, but don't worry - if you like the recipe (and it's very tasty as well as being lo-carb - you're on a diet, not a penance) then substitute a firm white fish such as cod, haddock, basa etc.
Likewise, if you find some Orange roughy fish, then any white fish recipe will do - where you'd use cod, basa etc.
It is a lovely flaky white fish.
---
Orange Roughy Fish with Fennel and Tomatoes
1 small fennel bulb, sliced thinly
2 tbspns olive oil
1 zucchini, sliced thinly
1 medium onion, chopped
4 ripe tomatoes, chopped
3 cloves garlic, peeled and crushed
salt
1 tspn dried thyme
few twists black pepper
4 tbspns white wine
6 orange roughy fish fillets

Heat the oven to gas mark 6, 200C or 400F
Take a baking dish large enough to take the fillets in one layer, and pour one tablespoon of the olive oil into it.
Add the vegetables and garlic and stir round to coat them in the oil - season with a little salt and pepper and stir in the thyme.
Bake for approximately 20 minutes.
Add the orange roughy fish and pour over the wine and the rest of the oil - season the fish fillets.
Return to the oven and bake a further 10 to 15 minutes until the fish is cooked through.
Serve with some plain boiled potatoes, sliced zucchini and a lemon wedge.
Orange Roughy Fish Recipes - try these healthy alternatives
Some of the links on this site include affiliate links, providing Find-a-Seafood-Recipe a small percentage of the sale at no additional cost to you. 

Subscribe to Seafood Recipe News - complete the form below.
Your email address is secure and will *only* be used to send Seafood Recipe News. When you confirm your subscription, you will be taken to a page where you can access your free eCourse. Complete the form and it will arrive over the following five days.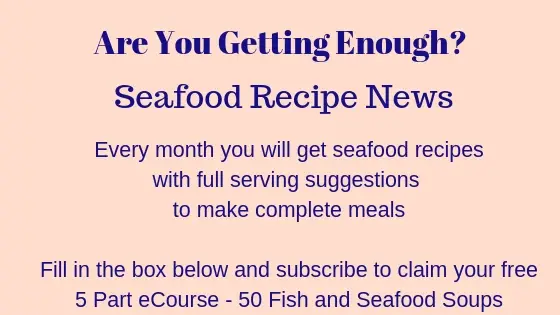 Find A Seafood Recipe

>
Baked Seafood Recipes
> Orange Roughy Fish Recipes
Orange Roughy Fish
By Liz Alderson,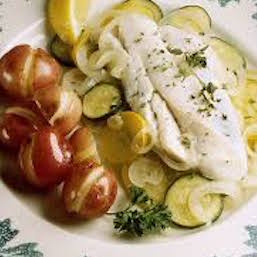 Lo-carb Orange Roughy Fish Recipe - substitute any white fish fillet.
Prep Time: 10 minutes

Cook time: 40 minutes

Yield: 4

Main Ingredient: white fish, tomato