Find a Seafood Recipe

You should be eating fish two to three times a week and one of those portions should be oily fish.
Seafood is an important source of Vitamin D, which is the 'sunshine' vitamin.  A lot of us don't get enough sun, particularly in the Northern Hemisphere in the winter months. In addition, it is a source of protein, calcium, minerals and other vitamins. 
The WHO (World Health Organisation) has stated that people who eat the Mediterranean and New Nordic diets are the  healthiest - the common factor is fish and seafood. They suffer lower incidences of cardiovascular disease, diabetes and obesity. They eat moderate amounts of oily fish, plenty of fresh fruit and vegetables and a little red meat and dairy products. 
By eating fish twice a week for your main meal, you'll be naturally cutting back on meat. 
Make one of the servings an oily fish. Fresh salmon, tuna, mackerel, herrings and sardines are all good sources of Omega 3 oils which help reduce cholesterol. All these fish retain their properties during the canning process (apart from tuna) and so even using canned seafood is good for you.
So - are you getting enough?
Subscribe to the newsletter to get recipes delivered straight to your inbox. 
---
A seafood or fish recipe for every occasion - snacks, family meals, dinner parties, lunches, barbecues and picnics.
You are what you eat and fish is essential as part of a balanced diet.
Click on the thumbnails to take you around the site.

The recipes you'll find here are suitable for everybody - from beginners to experts, from snacks to celebrations and you'll get handy tips to help you.
You'll get no nonsense, easy to follow recipes because I specialise in fish and seafood.
You won't be presented with lists of weird, expensive, exotic or difficult to source ingredients nor will you have to dirty every pot in the house to create your meals.
Fish isn't complicated and you will get serving suggestions to help add it regularly to your diet and make menu planning easy.
Seafood is:

good for you.
quick to cook and easy to digest.
high in protein, vitamins, minerals and natural oils.
low in calories and cholesterol.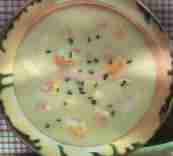 I have a recipe that will be just right for you.
The exact thing you're looking for.
Have a look on the navbar for the categories grilled, baked, poached seafood recipes and more - from a classic recipe for Prawn Provencale to recipes using canned fish - simple, quick and economical, using store cupboard ingredients.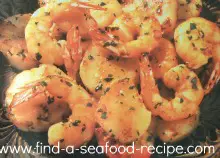 Find a Seafood Recipe is growing every week as I research and expand.
If you have recipes of your own you would like to contribute - please feel free. If you're looking for a specific recipe and you don't find it here - once again, get in touch and I'll do my best to find it for you. Use the Contact Page and I will get back to you quite quickly.
There is advice on buying and storing fish - where to buy, what to look for - online suppliers of seafood and shellfish.
My family owned a wet fish business from 1984 and I used to work in it. I was always a keen cook and customers would often ask for ideas on how to cook fish. I began to devise fish recipes and would type them out (in the days before home computers!) and get them copied to promote sales.
The collection of recipes is what started the website which you see here - it's evolved over the years in response to questions and demand from visitors for old favourites.
Read more about Liz Alderson here
Some of the links on this site include affiliate links, providing Find-a-Seafood-Recipe a small percentage of the sale at no additional cost to you. 

Subscribe to Seafood Recipe News - complete the form below.
Your email address is secure and will *only* be used to send Seafood Recipe News. When you confirm your subscription, you will be taken to a page where you can access your free eCourse. Complete the form and it will arrive over the following five days.