Fish For Health

As an Amazon Associate I earn from qualifying purchases.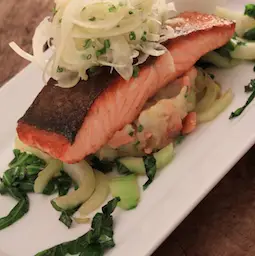 In this section I am focusing on fish for health.
The old wives' tale about fish being 'brain food' was really not so wide of the mark.
Research has proven that fish oils are beneficial to us and fish is a valuable source of low fat protein and minerals which are essential to human health.
Fish for health will cover the latest findings on issues surrounding seafood in your diet.
---
Oily fish provides essential fatty acids - it's not too hard to incorporate in your diet either - take a look at the canned fish section and ask yourself - how hard is it to open a can of salmon?
Fish is quick to cook, easy to digest, tastes good and provides valuable low fat protein and minerals - the health benefits are being brought to our attention on a regular basis.
There are such varieties as well - if you have chicken or beef, well, that's your choice isn't it - the only variation you can make is what cut to buy and how to cook it - choose fish and you have a wide variety of tastes and flavours - cow is cow, fish is anything from anchovies to yellow fin tuna - anyone know of an edible fish beginning with z?
Answer to question

Yes, there is an edible fish beginning with 'z' Zander - it's a European freshwater fish that is similar to Perch.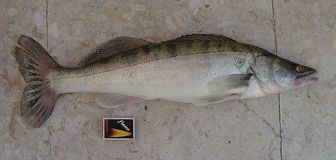 List of Oily Fish
Oily fish are the ones that give you the beneficial oils.  
Mackerel
Kippers
Pilchards
Tuna (fresh or frozen, some canning processes removes omega-3)
Trout
Sprats
Salmon
Herring
Sardines
Crab (fresh)
Whitebait
Swordfish
Shark
Marlin
Studies into Fish Oil for Health
A study of 22,000 people in Norway linked fish oil with a reduction in depression.
Three studies at hospitals in the UK have been concentrating on fish oils and their impact on prostate, skin and bowel cancer. 
Children's behaviour has been studied with the use of Omega 3s and they found that it can have a beneficial effect. 
A trial involving children in County Durham, UK involved some of the most persistently disruptive children (mid teens). They were put on a course of fish oil supplements (Omega 3, 6 and 9) for three months.The youngsters were suffering from moderate to severe ADHD, had short attention spans and were highly impulsive – they were all running the risk of exclusion from school due to their behaviour.
At the end of the trial, the senior educational psychologist, Dr Madeleine Portwood, described the results as 'stunning'.
Only three of them were classified as severely inattentive and six as highly impulsive.
After 12 weeks, that's 55% of them were out of the 'danger' zone!

The supplement used in this case was 'eye q smooth' made by Equazen – another product is known as Efalex.
A similar trial with younger children who were classified with 'poor' to 'very poor' behaviour showed 90% improved to 'moderate' or 'good' ratings.
In my own personal experience, I can say that it worked with my son when he was much younger (about 8 years old) – he became calmer, less volatile and fun to be with – he concentrated better at school and got into much less trouble. He took Efalex for three months and the difference was remarkable. 
There is a fuller explanation of the study here at the BBC website 
 Fish is beneficial to us in many ways. The Mediterranean diet is considered to be one of the healthiest in the World. 
They have a low consumption of meat and higher of fish and vegetables. 
Research is ongoing and our grannies were right - fish is good for you ;-)
If you have any queries on the benefits of fish in your diet, or indeed have any contribution to make in this then please get in touch via my contact page.
You may also like these recipes
Some of the links on this site include affiliate links, providing Find-a-Seafood-Recipe a small percentage of the sale at no additional cost to you. 

Subscribe to Seafood Recipe News - complete the form below.
Your email address is secure and will *only* be used to send Seafood Recipe News. When you confirm your subscription, you will be taken to a page where you can access your free eCourse. Complete the form and it will arrive over the following five days.