Fish For Health

As an Amazon Associate I earn from qualifying purchases.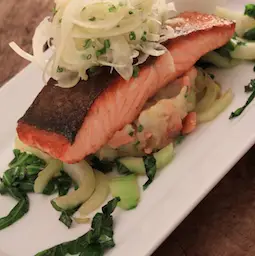 In this section I am focusing on fish for health.
The old wives' tale about fish being 'brain food' was really not so wide of the mark.
Research has proven that fish oils are beneficial to us and fish is a valuable source of low fat protein and minerals essential to human health.
Fish for health will cover the latest findings on issues surrounding seafood in your diet.
---
Oily fish provides essential fatty acids - it's not too hard to incorporate in your diet either - take a look at the canned fish section and ask yourself - how hard is it to open a can of salmon?
Fish is quick to cook, easy to digest, tastes good and provides valuable low fat protein and minerals - the health benefits are being brought to our attention on a regular basis.
There are such varieties as well - if you have chicken or beef, well, that's your choice isn't it - the only variation you can make is what cut to buy and how to cook it - choose fish and you have a wide variety of tastes and flavours - cow is cow, fish is anything from anchovies to yellow fin tuna - anyone know of an edible fish beginning with z?
From helping children's concentration to protecting against coronary heart disease, blindness, dementia and skin and bowel cancer - fish is beneficial to us in many ways.
Research is ongoing and our grannies were right - fish is good for you ;-)
If you have any queries on the benefits of fish in your diet, or indeed have any contribution to make in this then please get in touch via my contact page.
You may also like these recipes
Some of the links on this site include affiliate links, providing Find-a-Seafood-Recipe a small percentage of the sale at no additional cost to you. 

Find A Seafood Recipe

›
Fish for Health