Cat Fish Fillet Recipe
As an Amazon Associate I earn from qualifying purchases.

This cat fish fillet recipe is cooked in the oven and looks after itself.
I would serve it with some fresh crusty bread to mop up the juices but you could part cook some jacket (baked) potatoes in the microwave and finish them off in the oven.
Alternatively, try couscous or rice - anything goes!
You can use any combination of vegetables you like, but root vegetables, such as potatoes or carrots will need a longer cooking time - just add the fish for the last 20 minutes.
Also, substitute any fish you like - salmon, cod, haddock, plaice, swordfish - literally anything, fresh or frozen (defrost before cooking)
---
Cat Fish Ratatouille
1 fat clove of garlic - peeled
1 large onion, cut into wedges
1 red pepper - deseeded and cut into chunks
1 green pepper - deseeded and cut into chunks
8 oz (225g) zucchini (courgettes) - cut into chunks
1 small aubergine - cut into chunks
1 can peeled plum tomatoes - chopped
1 small glass white wine or water
4 tbspn olive oil
4 cat fish fillets - about 8 oz each
1 tspn dried rosemary or few sprigs fresh
Heat your oven to Gas Mark 6,400 F or 200C
You need a large roasting tin for this as the vegetables need space to cook - they will not cook so quickly if they're crowded.
Get your roasting pan and brush it with oil, then rub the garlic clove over it.
Lay all the vegetables in the tin and then pour over the olive oil - give it all a good mix round.
Roast the vegetables for about 20 minutes and then remove the tin from the oven - give the veg another good stir.
Put the cat fish fillets on top and season with salt and pepper, then drizzle some olive oil over it.
Return to the oven for about 20 minutes until the fish is cooked through.
Serve immediately.
Other cat fish fillet recipe pages
Some of the links on this site include affiliate links, providing Find-a-Seafood-Recipe a small percentage of the sale at no additional cost to you. 

Subscribe to Seafood Recipe News - complete the form below.
Your email address is secure and will *only* be used to send Seafood Recipe News. When you confirm your subscription, you will be taken to a page where you can access your free eCourse. Complete the form and it will arrive over the following five days.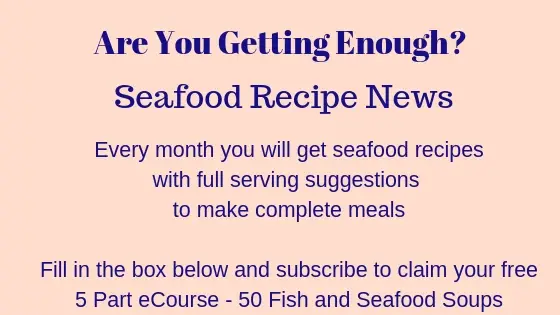 Cat Fish with Ratatouille
By Liz Alderson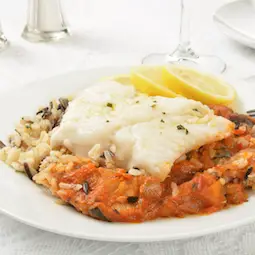 A superb, easy and tasty cat fish with ratatouille. A one pot meal with a built in sauce. Add some crusty bread and you've a healthy meal on the table in double quick time. You can substitute any fish you like in this recipe - salmon, cod, swordfish - anything fresh or frozen.
Prep Time: 10 minutes

Cook time: 40 minutes

Yield: 4

Main Ingredient: cat fish or other white fish, zucchini, tomatoes