Mackerel Recipe
Mackerel in Cider
As an Amazon Associate I earn from qualifying purchases.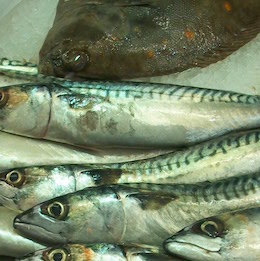 The alcohol burns off with cooking, but if you need to, you can substitute 5 fl oz (150ml) of apple juice and 5 fl oz (150ml) of water.
Mackerel is available all year round but is best between February and June. 
Mackerel is high in Omega 3s so this recipe is good for your heart as well as tasty! It's considerably cheaper than other oily fish such as fresh tuna and salmon. 
You can ask your fishmonger to fillet this for you if you don't know how to do it yourself.
I would recommend that you heat the cider in a pan before you pour it over the fillets - it starts the cooking off and means that your fish will be cooked through.
---
Mackerel in Cider
4 mackerel - filleted
1 onion - sliced in thin rings
salt and black pepper
10 fl oz (300ml) dry cider

Heat the oven to Gas Mark 4, 350F or 180C
Put the mackerel fillets into an ovenproof dish - season with a few twists of pepper and salt.
Top with the onion rings and pour the cider over.
Cover with a lid or tinfoil and bake in the oven for about 35 minutes.
This is great served with new potatoes and some lightly cooked fresh green vegetables.
It is also good cold as part of a seafood platter - try some green salad and stir some of the cooking juices into a soured cream or yoghurt salad dressing.
Grilled Mackerel
Many people catch mackerel on holiday - I know as a child, when I visited Cornwall, there would be holiday makers coming off the day trip fishing boats with a couple of mackerel on a string. They'd take them back to their holiday accommodation and not have a clue what to do with it. 
The easiest way of cooking mackerel is whole, but gutted over barbecue coals.
Brush it with oil before you put it on the grill or use a fish holder so  you can turn it without it breaking up. 
Most medium sized fish will cook in about 5 minutes a side - brush with oil between turns and give it a minute or two, then turn then another minute or two and turn, you'll soon be able to tell when it's read to eat. 
You may also like these recipes
Some of the links on this site include affiliate links, providing Find-a-Seafood-Recipe a small percentage of the sale at no additional cost to you. 

Subscribe to Seafood Recipe News - complete the form below.
Your email address is secure and will *only* be used to send Seafood Recipe News. When you confirm your subscription, you will be taken to a page where you can access your free eCourse. Complete the form and it will arrive over the following five days.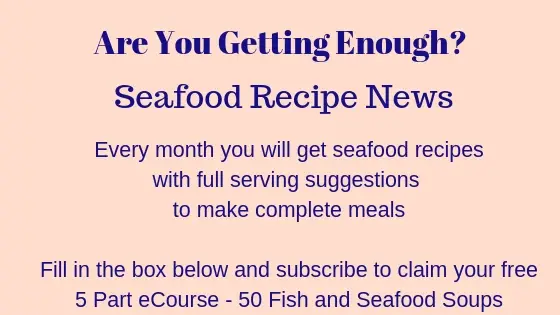 Mackerel Recipe In Cider
By Liz Alderson, Mar 20, 2017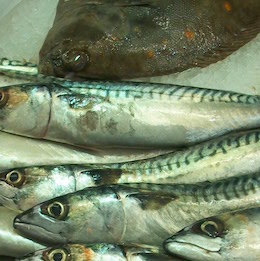 Simple to cook mackerel in cider.
Prep Time: 5 minutes

Cook time: 30 minutes

Yield: 4

Main Ingredient: mackerel, cider