Easy One Dish Baked Fish
As an Amazon Associate I earn from qualifying purchases.

This is a really easy one dish baked fish recipe.
You can use any fish you like and any mixture of vegetables you have.
I would part cook the potatoes before you add them as they take longer to cook than the other vegetables. Alternatively, put them in the oven first for thirty minutes and then add the rest of the vegetables.
Try roasted cauliflower or broccoli - roasting cruciferous veg (also brussel sprouts) gives them a really nutty flavour which most people love.
If you're cooking for more than two people, then you would need a larger roasting pan - or you can use individual ones and place them side by side on the oven rack.
---
Easy one dish baked fish
Set your oven to Gas Mark 4 350F or 180C
Baked Salmon with Roasted Vegetables

1 large salmon steak for two people
sliced zucchini
cherry tomatoes
quartered red onion
sliced bell pepper
mushrooms
par boiled potato slices (about 10 minutes boiled)

oil or herb butter
Dot some herby butter over the vegetables and fish steaks.
Put into the oven and bake for 25 minutes until everything is cooked.
Serve with some herby butter or herb mayonnaise.
How easy is that!
*TIP* put the potatoes in the oven for 30 minutes before adding the other ingredients if you don't want to parboil them.
Cook's Notes

This easy one dish baked fish is perfect for two people or even if you're cooking for yourself, you can adjust the quantities to serve one. 

Alternatively, cook the amount for two and then you'll have some leftover fish to make a pie or fish cakes with and the roasted veg would whizz up to be a fabulous soup - a swirl of cream, some fresh crusty bread, yum! 

It's a bit of luxury, to have a dish that you can prepare in advance and then leave to cook itself - next to no washing up either, which is always a plus for me. 
You may also like these recipes
Some of the links on this site include affiliate links, providing Find-a-Seafood-Recipe a small percentage of the sale at no additional cost to you. 

Subscribe to Seafood Recipe News - complete the form below.
Your email address is secure and will *only* be used to send Seafood Recipe News. When you confirm your subscription, you will be taken to a page where you can access your free eCourse. Complete the form and it will arrive over the following five days.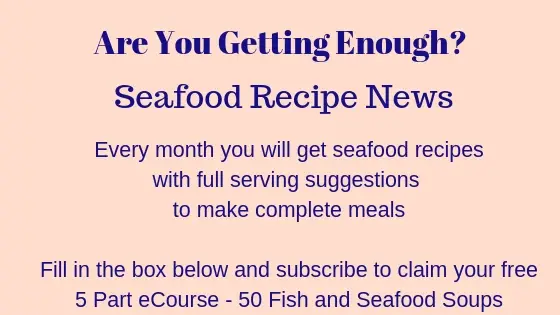 Baked Salmon
By Liz Alderson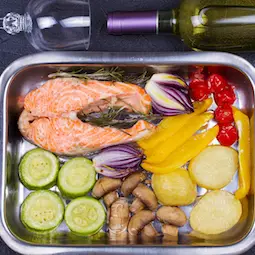 What a great way of getting dinner ready - one oven tray with everything on it. This is one of my favourites and I regularly cook fish this way. Some herb butter on top and it's such a simple meal.
Prep Time: 10 minutes

Cook time: 25 minutes

Yield: 1

Main Ingredient: salmon fillet, mixed vegetables