Fishermans Pie

As an Amazon Associate I earn from qualifying purchases.

This fishermans pie with a creamy mashed potato topping is so easy to make. It could be made of leftovers quite easily.
The quantities here would serve four people.
Along the lines of shepherd's pie (lamb mince) and cottage pie (beef mince) this is bits of fish and so 'fishermans pie'.
It's nursery food and very comforting - I serve it with some peas or green  beans to brighten up the plate - it looks a bit pale on its own.
There are many variations, but I particularly like this one - a couple of boiled eggs and a handful of shrimp (prawns) make it much tastier.
You can use any combination of fish you like though - plain wet fish with smoked fish is a good mixture. 
Many restaurants will advertise a 'luxury' version. This would generally be a bit of salmon, some white fish, some smoked fish, some prawns and hard boiled egg.
I love to find chunks of boiled egg in the sauce.
It would be good for a dinner party - serve it in individual dishes with a sprinkling of parsley and a side of peas and whole beans.
---
Fishermans Pie
1.5 lbs (700g) of cooked potato

1 lb (450g) mixed fish
2 hard boiled eggs - shelled and quartered
1 pint (500 ml) milk
1 tablespoon cornflour
pepper and salt to taste

First mash your potato - use some butter and milk or cream. Season to taste with a bit of salt - it needs to be quite soft to pile on top of the fish and will dry out in the heat of the oven, so put a little extra milk in than you normally would.
Skin your fish and remove all bones. Put it into the milk and bring up to a simmer for about 2 minutes.
Remove the fish with a slotted spoon and put in the bottom of an ovenproof dish. Break it up into flakes.

Bring the milk back up to the boil - add a knob of butter.
Bring the milk of the heat and mix in your made up cornflour or other thickener.
Stir thoroughly and allow the sauce to cook on a low heat for a minute or so.
Pour the sauce over the fish and give it a good mix to cover the fish - nestle the egg quarters around the dish carefully. Do it evenly so everybody will get some in their portion.
Cover with the potato and dot over some butter - spread it evenly with the back of a fork and make a pattern in the potato as in the photo.
Then pop it into a medium oven (around mark 5 170F) for about 20 to 30 minutes.
Serve immediately with some buttered peas and/or whole beans. 
You may also like these recipes
Some of the links on this site include affiliate links, providing Find-a-Seafood-Recipe a small percentage of the sale at no additional cost to you. 

Subscribe to Seafood Recipe News - complete the form below.
Your email address is secure and will *only* be used to send Seafood Recipe News. When you confirm your subscription, you will be taken to a page where you can access your free eCourse. Complete the form and it will arrive over the following five days.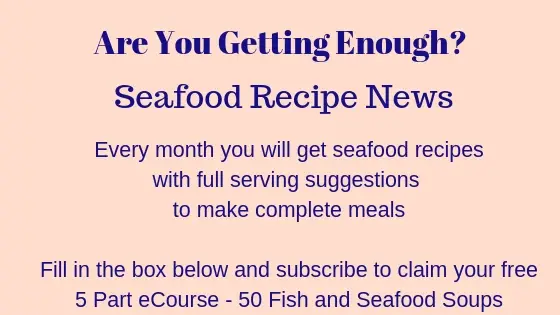 Fishermans Pie
By Liz Alderson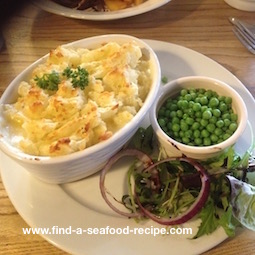 Super recipe for Fishermans Pie. You can make this as basic or luxurious as you like and everybody will love it.
Prep Time: 10 minutes

Cook time: 30 minutes

Yield: 4

Main Ingredient: potato, fish, milk