Crockpot Recipes for Fish

As an Amazon Associate I earn from qualifying purchases.

In this crockpot recipes for fish section, you will find casseroles, stews, soups and 'all in one' dishes.
I will also give you some hints on how to adapt your favourite seafood recipes to cook in the crockpot.
---
As we already know, fish doesn't need a lot of cooking, so it might seem that there's no advantage to using the crockpot recipes for fish.
But, if you think that you can put all your ingredients into one pot, leave it for 2 - 5 hours and get on with other things, you'll see that really, it's quite a good idea.
After lunch, when there's a mess in the kitchen to sort out anyway, I often prepare my evening meal as I reckon there's only one mess to clean up - instead of two!
The crockpot comes into its own here - I put all the ingredients in, switch it on and leave it until dinner time.
Also at the weekend - say you want to go out shopping and don't want to start cooking when you come in - use the crockpot and your meal's ready for you.
Maybe take the kids out to the pictures or swimming - time it right and the meal's ready straight away, as soon as you walk in the door.
Or perhaps you want to do some gardening - put everything in the crockpot and when you've finished your chores - your meal's there, just waiting for you to serve.
It's a bit like having a wife I suppose - 'Dinner's ready dear' shouts your crockpot as you come into the house, knocking soil off your shoes...
In fact, as I'm writing this, my crockpot is full of rice, curry spices and vegetables - it's nearly cooked (I've just checked) and before I fetch my son from school, I will be adding the prawns that are sat in a bowl in the microwave defrosting.
It took NO effort to put this meal together - really - and it's only the plates, cutlery and one dish to wash up later.
Here amongst my crockpot recipes for fish, I will concentrate on whole meals - the real 'one pot' cooking that the crockpot was first designed for.
Our ancestors used a slow oven for cooking - but they normally would have a fire lit all day - this isn't necessary for us nowadays and so to heat a whole oven would be wasteful.
The crockpot is really cheap and economical to run - not much more cost than leaving a light bulb on for the day.
Most of these recipes are suitable for any fish fillets or steaks - just substitute what's best on the day.
A few tips to adapt other fish recipes though - frozen fish is OK, but defrost it first - potatoes and root vegetables should be par-boiled for 5-10 minutes, depending on their size.
This is because fish cooks comparatively quickly - other slow cooker recipes take longer, so the veg has more time.

Rice should be quickly fried in oil before cooking - onions should be just softened in the same way.
You will need slightly less liquid than you would for conventional cooking - the lid is on all the time and the heat is less intense, that means that there's less evaporation.
Cooking time is 2-3 hours on HIGH and 3-5 hours on LOW the smaller the pieces of fish, the less cooking time.
So with those guidelines, you can adapt other casserole and stew type recipes to be crockpot recipes for fish.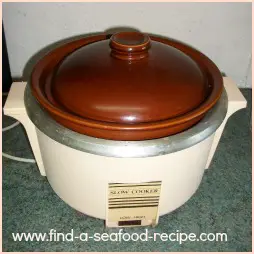 You may also like these recipes
Some of the links on this site include affiliate links, providing Find-a-Seafood-Recipe a small percentage of the sale at no additional cost to you. 

Subscribe to Seafood Recipe News - complete the form below.
Your email address is secure and will *only* be used to send Seafood Recipe News. When you confirm your subscription, you will be taken to a page where you can access your free eCourse. Complete the form and it will arrive over the following five days.