Recipes Using Canned Fish
As an Amazon Associate I earn from qualifying purchases.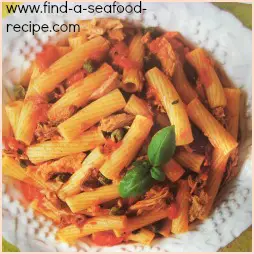 I have developed some recipes using canned fish for a variety of reasons. Not least, because it's convenient - always a meal in the storecupboard.
I also find that it smells less than the fresh variety while it's being cooked - no bad thing in my opinion!
It is also extremely good value - the taste is much stronger than fresh fish, so a little goes a long way.
---
Recipes Using Canned Fish
Tuna pasta is a great store cupboard standby.


It's tasty, quick, one pot, economical and you can make it as plain or fancy as you like.

Check out this great basic recipe and then read how you can 'jazz it up'.

Tuna Melt is another super quick, tasty snack you can put together.

Step by step photos show you how easy this is to make - you can serve it with a side salad or just as it is.

One of my favourite 'go to' recipes when I'm hungry and short of time.

This Tuna Carbonara is pretty hard to beat. 


Luxurious as well as super quick and tasty, it would make any guest feel as though you've gone to so much trouble, but you and I will know how easy it was to get together.

You could substitute any canned fish or fresh or smoked fish in the this recipe. I think it would be particularly fine with smoked salmon.
Tuna Pate - this is a really simple and economical pate to make. 

If you use the flakes instead of the chunks, it will cost less and be much easier to mix.

Great as a sandwich filler, an appetizer, a buffet dish, as a dip with chips or crackers or a lovely lunch with crusty bread and salad.



It's relatively cheap - it generally 'goes a long way' - so these recipes using canned fish have the added benefit of being economical to make.
I like canned tuna for spaghetti sauce instead of a minced meat bolognese - or use a combination for a seafood lasagne.
It also makes the tastiest sandwiches and baked potato filling. With sweetcorn, cheese and mayonnaise it makes a great 'tuna melt' - put it on toast and then brown it under the grill.
I use canned salmon to make fish cakes, sandwiches and kedgeree.
Canned crab or clams (or both) are great in a chowder.
Canned mackerel is good as a topping for pizza or even a quick snack on toast.
Canned sardines make very tasty sandwiches and are also good on pizza.
Amongst these recipes using canned fish are some old favourites as well as some new ideas - things that might set you off thinking along original lines of your own.
A tip I picked up once from a friend who ran a works canteen was that you can actually freeze leftover canned fish and use it in the same way you would have done if it were straight out of the can.
You may ask why you would want to:-)
I'll tell you - it's often very economical to buy the extra large 'catering' sizes and you can freeze what you don't use in portion sizes.
Likewise, if you live alone or you're the only person who likes canned fish in your home, it is always cheaper to buy a larger sized tin of salmon or tuna, but you don't want the waste. So you either buy a small expensive tin or do without. Now you don't have to...
Just freeze what's left in a poly bag - squeeze the air out and seal it - just tie the top. Then, when you're ready, bring it out of the freezer and allow it to defrost and use as you would have done straight from the can.
On a more serious note, canned oily fish is a good source of Omega 3 polyunsaturates.
We are recommended to eat one or two portions of oily fish a week for the health benefits.
Recipes using canned fish are a simple and economical way of getting more fish in your diet.
To read more about this, check out the BHF pages here

British Heart Foundation benefits of eating fish.
Some of the links on this site include affiliate links, providing Find-a-Seafood-Recipe a small percentage of the sale at no additional cost to you. 

Subscribe to Seafood Recipe News - complete the form below.
Your email address is secure and will *only* be used to send Seafood Recipe News. When you confirm your subscription, you will be taken to a page where you can access your free eCourse. Complete the form and it will arrive over the following five days.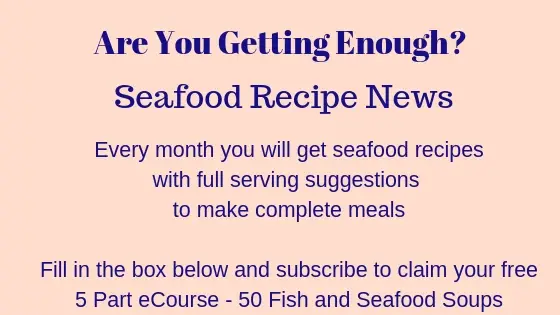 Canned Seafood Recipes
Baked Cod
Baked cod with a prawn sauce - yes, you can use canned prawns here:-)

Canned Salmon Recipe
A lovely salmon quiche, salmon and caper fish cakes and ideas for sandwiches - more tea vicar? All made from tasty canned salmon.

Crab Stuffed Plaice Rolls
Plaice rolled round a crab mousse and cooked with wine - yes, you can use canned crab - how good is that?





Salmon with Lemon Mushroom Sauce
This canned salmon recipe would work equally well with canned tuna. If you have leftover cooked fresh salmon, that would work too.

Seafood and Pasta Salads
Cold pasta salads with canned tuna or as an accompaniament to canned fish. It's so versatile - more storecupboard meals.

Seafood Salad Sandwich
Canned mackerel club sandwich - rich in Omega 3s and a very tasty lunch.

Salmon Salad
A quick and easy salad suitable for any occasion - salmon, eggs, salad and dressing served with new potatoes or crusty bread.

Tomato Rice
This is the most versatile recipe I have ever come across. The instructions are for shrimp, but you can use canned tuna, crab, pilchards - anything you like.