Crab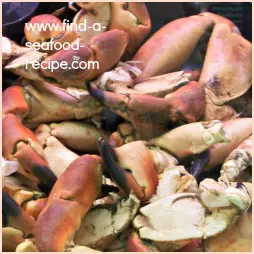 There have been so many requests for crab recipes and advice about dealing with it live, that I have made a separate section.
There is a huge debate on the best way to deal with live.
I couldn't possibly tear a live one apart as some people do - there's loads of videos on youtube showing this and I don't really like the thoughts of it.
I often buy them pre-cooked and dress them myself, but I will sometimes buy them live and cook them.
There are instructions for dressing and cooking live crab here.
I don't want any hate mail from the crustacean liberation front please!
Crab and Avocado
This fish appetizer is delicious. Instructions here for a variety of methods of serving this classic combination.

Crab Balls
Crispy fried crabmeat in a breadcrumb coating. Lovely served with fresh salad.

Crab Cakes
Lovely fresh crab cakes with dipping sauce recipes.

Crab Dipping Sauce
A lovely herby mayonnaise to use with any fish.

Plaice Stuffed with Crab Mousse
A poached plaice with a delightfully tasty stuffing.
---
Some of the links on this site include affiliate links, providing Find-a-Seafood-Recipe a small percentage of the sale at no additional cost to you. 

Find A Seafood Recipe
› Crab