Cod Fish Recipe
Braised Cod with Olives and Tomatoes
As an Amazon Associate I earn from qualifying purchases.

This cod fish recipe lifts cod to the dinner party level. The sharpness of the olives adds a piquancy that you just wouldn't believe.
Serve it with plain vegetables so as not to detract from the sauce.
A few buttered new potatoes, some green beans, courgettes and corn would be excellent with this dish.
If you prefer, you could make some saute potatoes - use a mixture of olive oil and butter to fry them in. I parboil the potatoes, then slice them when they're cool. Heat the oil and butter mix until it foams, then add the potatoes. Stir frequently for about 10 minutes until the potatoes are crispy and cooked through.
I have used monkfish and shrimp (prawns) with this sauce recipe as well.
There are links to more cod dishes below.
---
Baked Cod in Tomato Sauce
4 cod steaks or fillets
2 tbspns olive oil
2 large cloves garlic - peeled and crushed
2 large onions - peeled and chopped
1 green pepper - deseeded and chopped
1 14 oz (400g) tin plum tomatoes - chopped
1 tbspn chopped fresh parsley
pepper to taste
20 black olives (optional) 
Chopped parsley to garnish

Heat your oven to Gas Mark 5, 375F or 190C.
Heat 1 tbspn oil in a frying pan and fry the garlic, onion and pepper until softened. Add the olives and tomatoes and simmer for about 5 minutes - taste and season as necessary.
Flash fry the cod with the remaining oil so that it doesn't distintegrate during the braising.
Put the cod into a baking dish and cover with the sauce and sprinkle the parsley on top.
Bake in the oven for about 20 minutes until the cod is cooked through.
I like to add a dollop of cream on top of each serving and then sprinkle chopped parsley on top.
This baked fish recipe could be adapted for any fish - basa fish for instance - whatever is in stock on the day. There's no 'rules', it's your game!
You may also like these Cod Fish Recipe pages
Some of the links on this site include affiliate links, providing Find-a-Seafood-Recipe a small percentage of the sale at no additional cost to you. 

Subscribe to Seafood Recipe News - complete the form below.
Your email address is secure and will *only* be used to send Seafood Recipe News. When you confirm your subscription, you will be taken to a page where you can access your free eCourse. Complete the form and it will arrive over the following five days.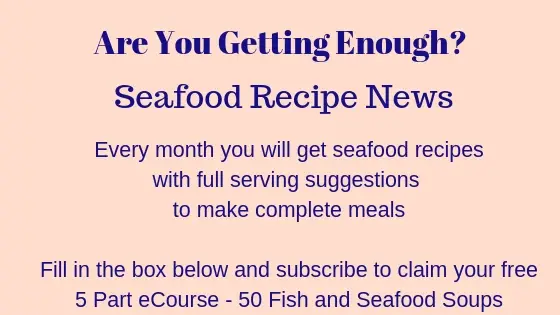 Braised Cod with Olive and Tomato
By Liz Alderson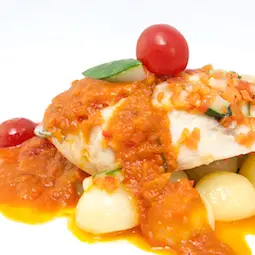 A simple method of cooking cod fillets or any white fish. Baked in the oven and in it own sauce - perfect.
Prep Time: 10 minutes

Cook time: 25 minutes

Yield: 4

Main Ingredient: cod or other fillets/steaks, tomato, onion