Sea Bass Recipe
As an Amazon Associate I earn from qualifying purchases.

This sea bass recipe gives you a complete, one pot baked meal.
Seabass is a beautiful silvery fish quite similar in shape to a salmon, but much smaller.
One fish would perhaps serve two people - a half filleted off from each side - alternatively, if they're small, one fish per person would be better.
Ask the fishmonger to gut, clean and scale if you don't know how to do it yourself - but watch and learn :-)
It's very tender fleshed and so bakes well.
The broccoli to use here is purple sprouting broccoli - sometimes known as tenderstem broccoli.
It has a short growing season and is absolutely delicious.
You can eat the stalk - in fact, some people prefer the taste of this to asparagus - I know I do.
If you can't find it, then ordinary broccoli (calabrese) will do - just chop into smallish pieces and boil for around 5 minutes.
---
Sea Bass Recipe with Broccoli and Rosemary Potatoes

2 lb (1 kilo) new potatoes - thinly sliced
2 large carrots - sliced
8 tbspns olive oil
1 sprig fresh rosemary (1 tspn dried)
salt and pepper
4 fillets sea bass or whole fish
1 lb (500g) broccoli
2 oz (50g) butter
1 clove garlic - peeled and crushed
fresh parsley - chopped finely

Heat your oven to gas mark 7, 425F or 220C.
Parboil the potatoes for about 6 minutes and carrots for 3 minutes until just tender.
Tip onto a baking tray and mix with half the olive oil and the rosemary.
Cook for about 20 minutes, giving the tray a shake half way through.
Take the sea bass and score through the flesh.
Rub in the rest of the oil and season with some salt and fresh ground black pepper.
Put on top of the potatoes and bake for around 15 minutes, until the flesh is cooked - you can tell when it is firm to the touch.
Meanwhile, bring a pan of salted water to the boil and cook the broccoli - it will need 3 to 8 minutes, depending on the thickness of the stems.
Remove the fish, carrots and potatoes from the roasting tin onto plates - keep warm.
Take the tin and put it onto the oven hob.
Heat the butter, scrape the residue away.
Add the garlic and parsley and cook for around 1 minute.
Pour the juices over the sea bass, potatoes and broccoli to serve.
Any of these salmon recipes would also be suitable for sea bass.
Some of the links on this site include affiliate links, providing Find-a-Seafood-Recipe a small percentage of the sale at no additional cost to you. 

Subscribe to Seafood Recipe News - complete the form below.
Your email address is secure and will *only* be used to send Seafood Recipe News. When you confirm your subscription, you will be taken to a page where you can access your free eCourse. Complete the form and it will arrive over the following five days.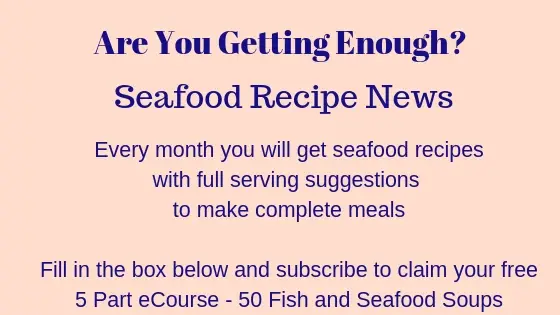 Sea Bass Recipe
By Liz Alderson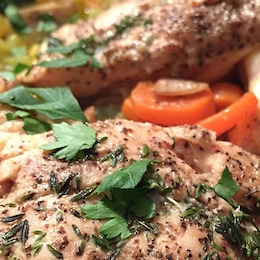 Delicate sea bass cooked with broccoli and rosemary potatoes - a one pot meal.
Prep Time: 15 minutes

Cook time: 30 minutes

Yield: 2

Main Ingredient: sea bass, broccoli, potatoes, rosemary