Clam Chowder Recipe

As an Amazon Associate I earn from qualifying purchases.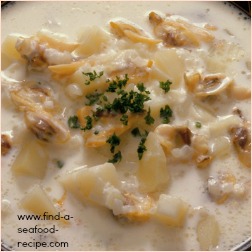 This canned clam chowder recipe is really straightforward. Fish soups are tasty and quick to prepare.
The good thing here is that you don't need hours of cooking to make it with canned clams.
Many firms now can clams in brine - try to find one in its own juice if you can as the clam juices will help make the chowder really tasty.
You can of course substitute fresh clam and mussels in this recipe - clean them and steam them open in a glass of wine before adding to the chowder. Use the liqour produced as part of your fish stock.
---
Canned Clam Chowder
1/4lb (125g) bacon - chopped
1 onion peeled and chopped finely
1 clove garlic
1lb (450g) peeled, diced potatoes
1 oz (25g) flour
1/2 pint (300ml) water or fish stock
1/2 pint (300ml) tomato juice
1 oz (25g) butter
1/2 pint (300ml) milk
1 10 oz (290g) can clams

1 5 oz (155g) can mussels

1 7 oz (200g) can sweetcorn
salt and pepper

Adjust your liquid depending on the juice in the clams and mussels - it it's juice, then use that instead of water or fish stock.
Fry the bacon until the fat runs. Add the onion and garlic and cook gently - you might need a little butter if there is not enough fat. Add the potato and coat in the fat.
Sprinkle in the flour and stir well.This will help to thicken the chowder.

Gradually add the water or fish stock and tomato juice, stirring gently so that it doesn't go lumpy.
Cook for about 25 mins until the potatoes are soft - test with a knife to make sure they are done.
Stir in the milk and butter.
Add the clam, mussels and sweetcorn and cook a further 5 mins.
Adjust the seasoning and serve the canned clam chowder with crusty bread and butter to soak up all the lovely soup.
You may also like these pages
Some of the links on this site include affiliate links, providing Find-a-Seafood-Recipe a small percentage of the sale at no additional cost to you. 

Subscribe to Seafood Recipe News - complete the form below.
Your email address is secure and will *only* be used to send Seafood Recipe News. When you confirm your subscription, you will be taken to a page where you can access your free eCourse. Complete the form and it will arrive over the following five days.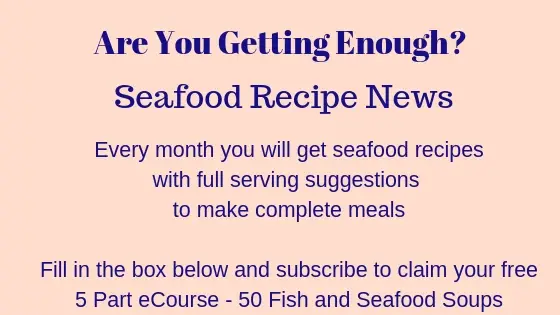 Clam Chowder Recipe
By Liz Alderson, Mar 30, 2016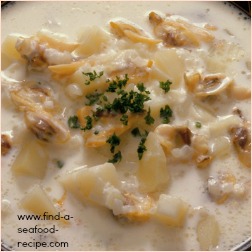 Clam Chowder is a great tradition in some states but can take an age to cook. Here's a version using canned clams and other fish - give it a try and cut your time in the kitchen.
Prep Time: 10 minutes

Cook time: 30 minutes

Yield: 4

Main Ingredient: canned clams, bacon, potato