Seafood Pasta Salad Recipes
As an Amazon Associate I earn from qualifying purchases.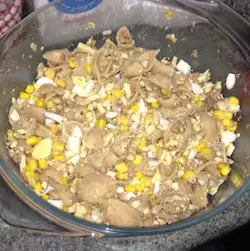 This is one of my best seafood pasta salad recipes. 
My son often asked for this one to take for his school lunch.
I cook a big batch and we pick at it out of the refrigerator each time we open it.
Well, I did when he went to school - he's now left and working - however, we still pick at the dish when I make it :-)
You can use short cut macaroni or any small pasta shapes - I just happened to have some wholewheat pasta shells, so I used those.
---
Seafood Pasta

8 oz (225g) short cut macaroni, cooked and cooled
3 hard boiled eggs, chopped roughly
6 oz (150g) finely shredded hard cheese
1 medium can sweetcorn, drained
1 can flaked tuna


It's so very easy - take a large bowl and combine all the ingredients and there you have it - a seafood pasta salad.
Variations
You can use any short cut pasta, shells, twirls, as long as it's small.
You can substitute any sort of seafood you like in this - perhaps a seafood cocktail, consisting of any combination of cooked shellfish that you like to make a unique seafood pasta salad of your own.
You could make a pasta salad to eat with seafood.
1lb (500g) cooked, rinsed and cooled short cut pasta
4 tbspns mayonnaise or sour cream
cream/milk
chopped chives
dill

Put the mayonnaise or sour cream into a large bowl.
Combine with enough cream or milk to make a coating sauce.
Add some dill and chopped chives to taste - fresh if possible.
Pile the cooked pasta into the bowl and turn gently to coat with the sauce.
If the pasta looks a little dry, then put some mayo/sour cream, milk and herbs into another bowl, mix and pour over the pasta, once again turning gently to combine.
This pasta salad would be good with seafood such as smoked mackerel, lobster, crab, shrimp, prawn or a combination making up a lovely seafood platter with a pasta salad.
In addition, some crusty bread and green salad would make a great meal.
Cold pasta is a great standby. It is filling and if you use wholemeal pasta, it can be very good as part of a slimming diet.
You would need to use low fat mayo or a low fat salad dressing to substitute in this recipe.
I buy a .5% fat french dressing which I drizzle over my pasta - I remove my portion before I dress the salad and use my own dressing on my portion.
You may also like these recipes
Some of the links on this site include affiliate links, providing Find-a-Seafood-Recipe a small percentage of the sale at no additional cost to you. 

Subscribe to Seafood Recipe News - complete the form below.
Your email address is secure and will *only* be used to send Seafood Recipe News. When you confirm your subscription, you will be taken to a page where you can access your free eCourse. Complete the form and it will arrive over the following five days.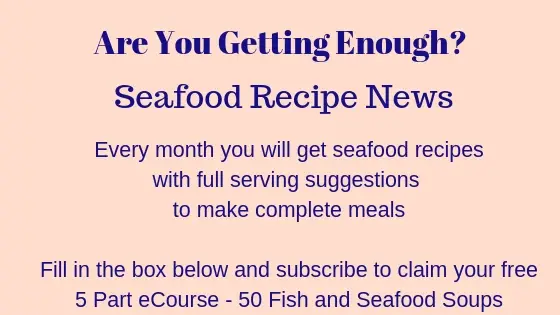 Seafood Pasta Salad Recipes
By Liz Alderson, Mar 26, 2017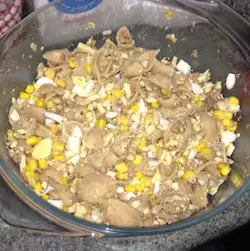 Versatile seafood pasta salad recipes which are great as part of a buffet, picnic or packed lunch.
Prep Time: 10 minutes

Cook time: 10 minutes

Yield: 4

Main Ingredient: tuna, pasta, egg, corn, cheese