Seafood Salad Sandwich Recipe
As an Amazon Associate I earn from qualifying purchases.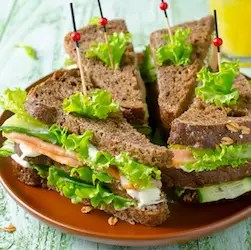 This seafood salad sandwich recipe is easily adapted to whatever type of seafood you have in your cupboard - 
Here I am using smoked salmon, but you could use canned mackerel, salmon, pilchards or sardines which are all really tasty - and all high in Omega 3s which will satisfy your portion of oily fish per week.  Canned tuna is an option but that doesn't have the Omega 3s as the oils are destroyed in the canning process. However, it still makes a fabulous tasty sandwich! 
This seafood salad club sandwich makes a great lunch snack - it's probably not a good idea to take to work, as it could be a bit messy to eat!  But, you could certainly take it on a picnic so long as you had plenty of napkins. 
You can toast the bread if you like - it can make the sandwich a bit more stable.
It's a triple decker sandwich - lovely :-)
Cook's Notes

Shrimp (prawns) are also a good alternative filling for a seafood salad sandwich - you can use fresh or defrosted frozen. Pat them dry before mixing with some mayonnaise - use enough so that they 'stick' together and then they will stick to the bread. 

You could use this seafood cocktail sauce if you prefer instead of plain mayonnaise. 
---
Seafood Salad Sandwich
12 slices bread - I like to use brown, but it's up to you
4 slices smoked salmon or
2 cans (125g) mackerel
lettuce leaves
tomato - thinly sliced
cucumber - thinly sliced
mayonnaise


Prepare all your filling ingredients so you can assemble the sandwiches quickly.

If you're using canned fish, then mash and season it to your taste - a squeeze of lemon is nice too.
Lay out four slices of bread, butter them and divide the mackerel evenly between them.
Top with cucumber and spread the underside of the next slice of bread with mayonnaise and then lay it on top of the cucumber.
Top with tomato and lettuce - spread mayo on the underside of the bread again and put the last slice on top.
These quantities will make 4 triple decker sandwiches - it can be a good idea to spike them with cocktail sticks to hold them together.
Give out plenty of napkins or paper towels when you serve them - they can be quite messy to eat and people are better off with some paper to catch the bits then eat them with their fingers.
You may also like these recipes
Some of the links on this site include affiliate links, providing Find-a-Seafood-Recipe a small percentage of the sale at no additional cost to you. 

Subscribe to Seafood Recipe News - complete the form below.
Your email address is secure and will *only* be used to send Seafood Recipe News. When you confirm your subscription, you will be taken to a page where you can access your free eCourse. Complete the form and it will arrive over the following five days.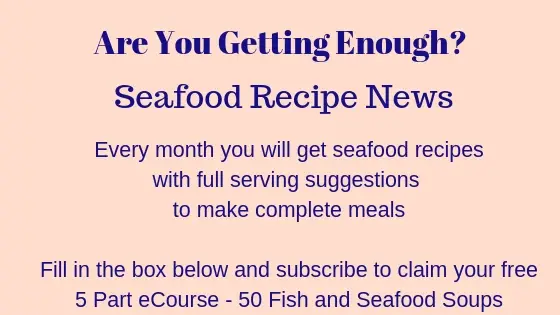 Seafood Salad Sandwich Recipe
By Liz Alderson, Mar 25, 2017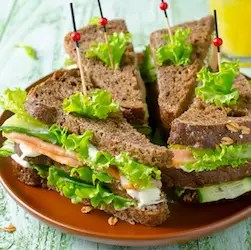 Beautiful triple decker seafood salad sandwich recipe - just right for a lunch or picnic. Spike toothpicks in to stop them falling over.
Prep Time: 10 minutes

Cook time: 0 minutes

Yield: 4

Main Ingredient: salmon, bread, salad