Canned Sardines Recipe

As an Amazon Associate I earn from qualifying purchases.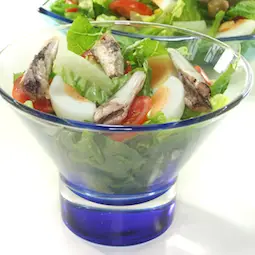 Here's a lovely canned sardines recipe - you can use normal toast for the kids if they don't like garlic, but I'm going to show you a novel way of making garlic bread that doesn't entail heating a whole oven.
Mashed up, tinned sardines make a fabulous sandwich and they are considered to be one of your oily portions of fish a week.
They are a good source of protein and omega oils - very heart healthy- they're also extremely tasty.
Add them to pizzas, sandwiches, quiches, pasta dishes - they're very versatile and inexpensive. Do check out the links at the bottom of the page here for more canned fish recipes - you can substitute sardines in virtually all of them.
---
I had a sick dog who wasn't wanting to eat - the vet advised me to try him on canned sardines and I did - just picked up a bit on my fingers and let him lick it off - it worked a treat and he began to eat again - what's good enough for my dog, is good enough for me :-) I didn't try him with the salad...
Sardine Salad
2 120g cans sardines
8 slices bread
1 garlic clove - peeled
Salad
Olive oil
Lemon juice
1 small lettuce - shredded
4 tomatoes - sliced
1 small red onion - peeled and sliced thinly
1 red pepper - deseeded and sliced thinly
4 hard boiled eggs - quartered
salt and pepper to taste

Heat your grill and brush one side of your bread with olive oil - at this point, if you want garlic bread, then rub the clove over that side of the bread - toast until browned.
Divide your salad between four plates and drizzle a little oil over it and a twist of salt and pepper and a squeeze of lemon.
Once the bread has toasted, divide the sardines between the salad
Serve straight away with the garlic bread - you can use extra dressing if you like, mayonnaise, vinaigrette, but I find just a little good virgin oil and lemon juice is fine.
You could of course use fresh sardines in this recipe - clean, split and bone the sardines, season and brush with oil and then grill for about 2 minutes either side.
You may also like these recipes
Some of the links on this site include affiliate links, providing Find-a-Seafood-Recipe a small percentage of the sale at no additional cost to you. 

Find A Seafood Recipe

›
Recipes Using Canned Fish
› Canned Sardines Recipe
Canned Sardine Salad
By Liz Alderson, Mar 30, 2016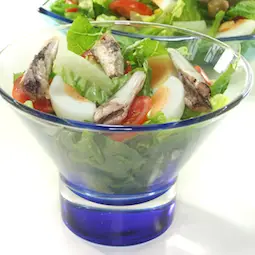 A lot of people get given canned sardines or they buy them thinking they're cheap and might make a good meal. Then they're stuck with recipe ideas. Sardines are very tasty and very healthy - a good source of omega 3s which aren't lost in the canning process. They're a great addition to a pizza, will add a juiciness to a quiche, fabulous in sandwiches or as a snack on toast. Here's another healthy recipe idea - sardine salad.
Prep Time: 10 minutes

Cook time: 0 minutes

Yield: 4

Main Ingredient: canned sardines, salad vegetables