Italian Fish Recipe
Tuna with capers, anchovies and pasta
As an Amazon Associate I earn from qualifying purchases.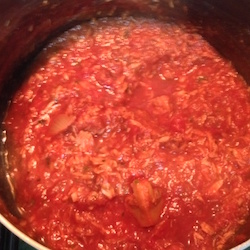 An Italian fish recipe which I have adapted as a storecupboard standby. There are more Italian seafood recipe links at the bottom of this page. 
This has to be one of my all time favourites - if I can't think of something to cook for tea, this is what I have.
The tuna sauce is one I use instead of bolognaise as I'm not a fan of minced meat - it's also good to use in a seafood lasagne.
Just use this tuna sauce to layer the lasagne sheets where you would have put the bolognaise sauce - you then get a seafood lasagne - there you go, two recipes for the price of one!
This will serve two people with healthy appetites - easily doubled for more.
---
Tuna Pasta
1 can (7oz, 200g) tuna in oil
2 tbspns olive oil
1 large onion, peeled and finely chopped
1 clove of garlic, peeled and crushed
1 cans (14oz, 400g) peeled chopped plum tomatoes
6 anchovy fillets - drained and chopped
2 tbspns capers - chopped
1 tspn dried basil
8 oz (225g) pasta - your choice, macaroni,penne or spaghetti
salt and pepper to season
Grated parmesan to serve

Drain the oil from the tuna into a large saucepan. Add the olive oil and fry the onion and garlic gently until softened.
Add the tomatoes and simmer for about 25 minutes until thickened.
Cook the pasta in plenty of boiling water (a dash of oil will help prevent sticking) according to the instructions on the packet.
Add the tuna, anchovies, capers and basil to the tomato sauce and heat through - taste and adjust seasoning.
Serve the tuna sauce spooned over the hot pasta - sprinkle over parmesan to taste and enjoy this fish pasta recipe with some crusty bread to mop up the juices.
Cook's Notes

If you buy tuna fish in oil then you can use the oil to cook your other ingredients in.  Just drain the can over your cooking pan and you'll catch all the oil. It will also save it going down the sink and creating nasty smells - a win-win situation in my book :-) 
You may also like these recipes
Some of the links on this site include affiliate links, providing Find-a-Seafood-Recipe a small percentage of the sale at no additional cost to you. 

Subscribe to Seafood Recipe News - complete the form below.
Your email address is secure and will *only* be used to send Seafood Recipe News. When you confirm your subscription, you will be taken to a page where you can access your free eCourse. Complete the form and it will arrive over the following five days.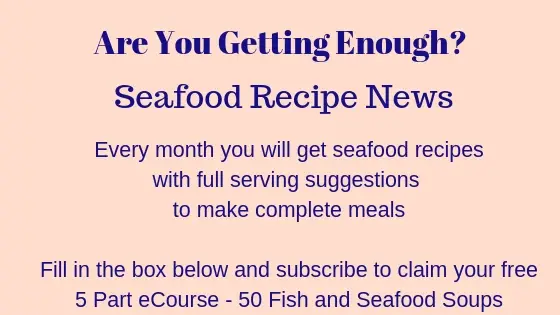 Italian Fish Recipe - Tuna Pasta
By Liz Alderson, Mar 19, 2016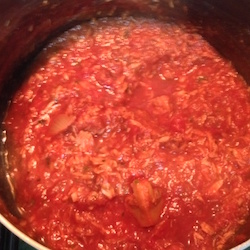 How to make tuna sauce for Italian fish recipe.
Prep Time: 2 minutes

Cook time: 10 minutes

Yield: 4

Main Ingredient: Tuna