Recipe for Tuna Fish Salad
Tuna Nicoise 

As an Amazon Associate I earn from qualifying purchases.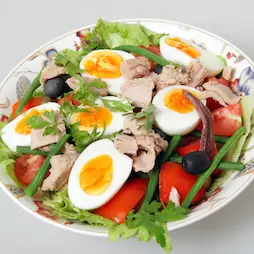 This recipe for tuna fish salad is a variation on Tuna Nicoise.
It's a perfect combination of fresh salad with salty anchovies and olives, succulent tuna and smooth egg, all coated with a delicious dressing - mop it up with some fresh crusty bread and you'll think you've gone to food paradise!
---
Recipe for Tuna Fish Salad - Tuna Nicoise
Dressing
small clove garlic, peeled and crushed
1/2 tspn salt - the garlic and salt could be 1tspn garlic salt
few twists of black pepper
1/4 tspn sugar
1/2 tspn french mustard - or dijon
1 tspn lemon juice
1 tbspn white wine vinegar
3 tbspns olive oil
Salad
2 cups (8 oz, 450g) French Beans (whole beans)topped and tailed
1 crispy lettuce - iceberg or similar
1 medium 7oz (200g) can tuna fish, drained and flaked
6 hard boiled eggs - quartered
6 tomatoes - quartered
Garnish
1 small (2oz, 50g) can anchovy fillets - drained
12 black olives - stoned and halved
2 cans tuna - drained and broken into large chunks
Optional - tablespoon of capers

Cook the beans in boiling water until just tender - about 10 minutes - drain and refresh in cold water.
Take the dressing ingredients and mix together - I put it all in a jar with a lid and shake it to mix - be careful when you take the top off as it can sometimes froth over!
Set to one side for the flavours to amalgamate whilst you assemble the salad.
Line a large bowl with lettuce leaves. Pile the tuna into the centre and arrange the beans around it. If you're using pasta, this is when you would arrange that around the outside edge as well.

Alternate egg and tomato quarters in a ring around the edge.
Criss cross anchovies over the tuna and arrange the olives in the grid.
Also, if you've opted to use capers, then scatter these over before adding the dressing.

Give the dressing a final shake and then pour over the salad evenly.
Serve straight away.
If you've enjoyed this recipe for tuna fish salad, you may enjoy these
Some of the links on this site include affiliate links, providing Find-a-Seafood-Recipe a small percentage of the sale at no additional cost to you. 

Subscribe to Seafood Recipe News - complete the form below.
Your email address is secure and will *only* be used to send Seafood Recipe News. When you confirm your subscription, you will be taken to a page where you can access your free eCourse. Complete the form and it will arrive over the following five days.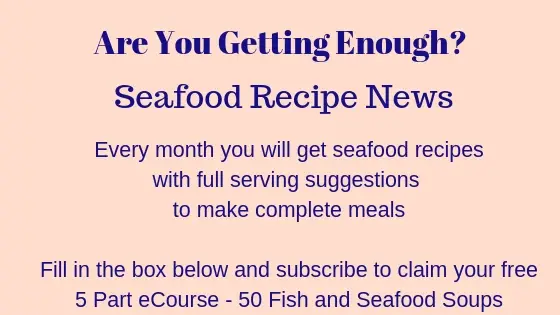 Tuna Fish Salad
By Liz Alderson, Mar 30, 2017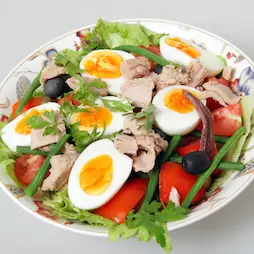 Delicious and mouthwatering Tuna Nicoise - a great tuna fish salad recipe that you can adapt depending on what you have in. The classic salad has boiled eggs and green beans, but you can add in anything you like. The french dressing is lovely and you can make up a quantity to store in your fridge.
Prep Time: 15 minutes

Cook time: 0 minutes

Yield: 4

Main Ingredient: tuna, eggs, green beans, salad