Canned Salmon Recipe
As an Amazon Associate I earn from qualifying purchases.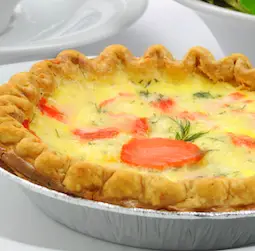 This canned salmon recipe is a great standby. If you have unexpected guests and a quick and tasty alternative to fresh in my opinion.   I like using canned fish in cooking, it's a convenient way of getting the oily fish portions you need every week. 
If you have some tinned fish in your cupboard with some basics like bread or pasta, you will always be able to get a meal ready in double quick time.
---
Tinned Salmon Quiche
Pastry
Either use a packet mix, a bought pastry case or:-
8 oz (225g) self-raising flour
4 oz (110g) butter - chilled and cubed
teaspoon salt
milk to mix

My grandmother used to make pastry light as air - the secret was to use self raising flour, not plain and milk, not water to mix.
Give it a try and see if this canned salmon recipe isn't lifted out of the ordinary by this pastry.
Sift the flour and salt into a mixing bowl.
Rub in the butter until the mixture resembles fine breadcrumbs. 
Add about 1 tbspn milk and mix - if the mixture seems too dry, then add a little more milk.
Wrap in clingfilm and put in the fridge for about 30 minutes to rest.
Roll out the pastry to fit a 9" flan case, prick the bottom with a fork and rest for about 15 minutes in the fridge.
Cover the base with greaseproof paper or tinfoil, add baking beans (dried peas or beans will do) and bake blind in a hot oven Gas Mk 6, 450F, 230C) for 15 minutes.
Remove the baking beans and paper and bake a further 5 minutes.
Turn the oven down to Gas Mark 4, 400F, 200C
Filling
1 185g canned salmon, drained
1 thinly sliced tomato
6 oz (150g) cream cheese
1/2 pint (350ml) cream or milk
2 eggs
Pepper

Remove the skin and bones from the salmon, flake and arrange evenly over the bottom of the pastry case.
Arrange the sliced tomato over the salmon and dollop the cream cheese on top.
Beat the eggs into the milk, season with a twist of pepper and pour gently over the contents of the pastry case.
Bake for 30 minutes or so, until the quiche looks nicely risen.
Serve with a salad, baked potatoes or potato salad.
You could substitute any canned fish in this recipe that you like.
Tinned Salmon Recipe - Fishcakes
1 185g canned salmon, drained
1lb (450g) mashed potatoes
2 tspns chopped capers
salt and pepper to taste
1 egg, beaten
milk
seasoned flour
oil to fry

Remove the skin and bones from the salmon and flake.
Add to a bowl with the potatoes and capers and mix together - taste and adjust seasoning - before you add the egg.
Add the egg and mix thoroughly. Add enough milk to make a mixture that's 'slack' enough to mould into cakes.
Divid the mixture into 6 or 8 portions and shape to make fish cakes.
Dip in seasoned flour - chill in the fridge for about 15 minutes to make it easier to handle the fishcakes.
Fry in hot oil for about 10 minutes, turning frequently.
Tinned Salmon Recipe - Sandwiches
8 slices bread, buttered
1 185g canned salmon
pepper
lemon juice
thinly sliced cucumber

Remove the skin and bones from the canned salmon and mash with the pepper and lemon.
Spread evenly over four slices of buttered bread, arrange the thinly sliced cucumber and top with the other four slices of buttered bread.
Lovely - more tea vicar?
Or
Canned Salmon Recipe - Sandwiches 2
8 slices buttered bread
1 185g canned salmon, drained
2 tbspns mayonnaise
2" (5cm) piece cucumber, diced small
pepper

Remove skin and bone and mix all together and proceed as above.
You may also like these recipes
Some of the links on this site include affiliate links, providing Find-a-Seafood-Recipe a small percentage of the sale at no additional cost to you. 

Subscribe to Seafood Recipe News - complete the form below.
Your email address is secure and will *only* be used to send Seafood Recipe News. When you confirm your subscription, you will be taken to a page where you can access your free eCourse. Complete the form and it will arrive over the following five days.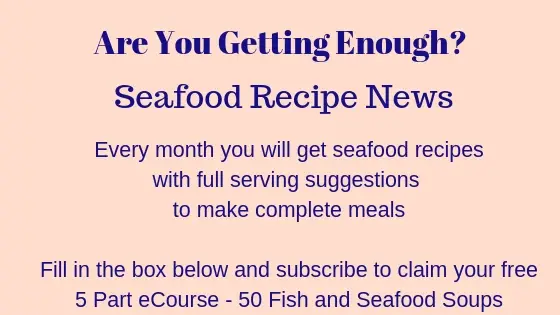 Canned Salmon Recipe
By Liz Alderson, Mar 30, 2016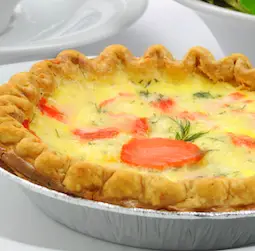 If you've got canned salmon in the cupboard, you've always got a quick meal. Quiche, sandwiches, fishcakes - so versatile as a snack or dinner.
Prep Time: 10 minutes

Cook time: varying minutes

Yield: 4

Main Ingredient: canned salmon