Tuna Carbonara
As an Amazon Associate I earn from qualifying purchases.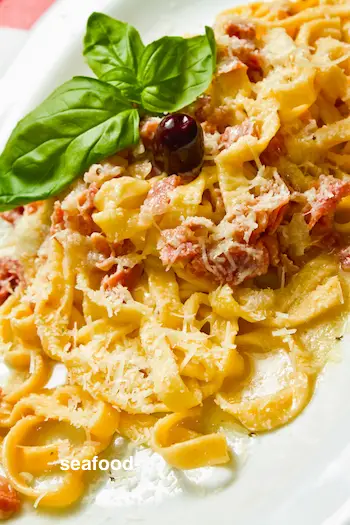 Super quick, easy and tasty Tuna Carbonara can be put together in minutes and mainly uses store cupboard ingredients.
Use spaghetti, fettuccine, linguine or tagliatelle. It's not very important, but the long strands of pasta pick up the sauce better when you stir it through. It coats each strand with the beautiful tasty sauce.
A carbonara is traditionally made with bacon and there's no reason why you can't have both tuna and bacon. I sometimes leave it out and just have the carbonara with tuna only. In my opinion, it is just as tasty and it's also suitable for pescatarians that way.
This recipe will serve four people. 
Cook's Notes

By using just the egg yolk, you will get a creamier less grainy finish to your tuna carbonara. 

Leftover egg whites can be used in meringues, macaroons, mousse, added to omelettes etc. They will store covered in the refrigerator for two days or in the freezer for three months. 
---
Tuna Carbonara - Ingredients
1 pound of spaghetti, fettuccine, tagliatelle or linguine
4 rashers of bacon
1 clove garlic
4 egg yolks 
3/4 cup cream or evaporated milk
salt and pepper
1 can drained tuna
1/3 cup grated parmesan
more grated parmesan to serve 
sliced black olives (optional)
fresh basil leaves to garnish  (optional)
Boil the pasta in hot salted water for 8 or so minutes, but check the instructions on your packet, wholewheat pasta takes longer than white flour pasta.
Fry the bacon rashers until crispy and chop them into small pieces. Chop the garlic finely and fry that until soft. Allow this mixture to cool - you don't want the heat to start cooking the eggs until the mixture hits the hot pasta.
You can do this step in advance, even the day before and leave it in the refrigerator.
Whilst the pasta is cooking, get the sauce together - beat the egg yolks with the cream and seasonings. Stir through the  parmesan making sure it's evenly mixed in. Add the cooled bacon, garlic and flake the tuna.  Mix together thoroughly.
When the pasta is cooked, drain it and reserve a cup of the pasta water.
Return the pasta to the pan and pour the sauce mixture over. Get some tongs or two spoons and quickly mix it all together. The heat from the pasta will cook the egg.
If the sauce is too thick, add a spoon of the pasta water to slacken it off a bit. The aim is to coat every strand with the delicious creamy sauce.
Serve immediately into bowls and add some more parmesan (there is no such thing as too much parmesan!)
You can garnish with some fresh basil and I love a black olive or two popped on top, sliced with my pasta dishes. 

This is such a simple dish to make. You could substitute canned salmon for the tuna - get rid of the skin and bones and flake it before mixing into the sauce. I would also recommend smoked salmon or some leftover fish, trout - really, I can't think of a fish that wouldn't work with this tuna carbonara recipe. 
Let me know in the comments box if you try something else - would be great to share tips.
There's some good recipes here for leftover egg whites or yolks.

Tuna Carbonara
By Liz Alderson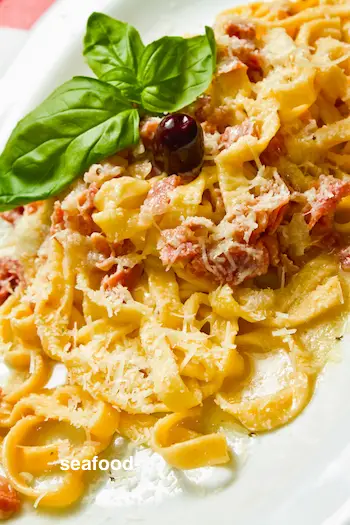 A really easy recipe that's sure to become a family favourite. Quick and economical - you can have a meal on the table in minutes.
Prep Time: 2 minutes

Cook time: 10 minutes

Yield: 2-4

Main Ingredient: canned tuna, tagliatelle
Some of the links on this site include affiliate links, providing Find-a-Seafood-Recipe a small percentage of the sale at no additional cost to you. 

Subscribe to Seafood Recipe News - complete the form below.
Your email address is secure and will *only* be used to send Seafood Recipe News. When you confirm your subscription, you will be taken to a page where you can access your free eCourse. Complete the form and it will arrive over the following five days.