Crab Stuffed Fish Recipe
Plaice with Crab Mousseline
As an Amazon Associate I earn from qualifying purchases.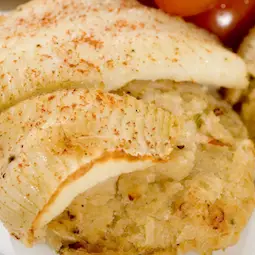 Although I state plaice in this crab stuffed fish recipe, you could of course use any flat fish. Dabs or sole for instance.
**Tips and guidelines for preparing fillets for a crab stuffed fish recipe** see box below
Cook's Notes

 **Tips and guidelines for preparing fillets for a crab stuffed fish recipe**


The general guidelines for stuffing and rolling fish apply to any flat fish. You need to score the skin side two or three times, depending on the size of the fillet. 

When you come to spread the stuffing - put it on the skin side - that's even if you've removed the skin - you then roll the fillet around the stuffing.

If you roll them this way, then the fish will keep its shape - if you roll them skin side out, during cooking, the roll will contract and open - the stuffing will fall out and the dish won't look so good.
---
Plaice with a Crab Mousse Stuffing
4 (or 8) plaice fillets - see below
8 oz (250g) crab meat - brown and white
salt and pepper
5 fl oz (150 ml) double (heavy) cream
1 egg white
1/2 (300ml) pint fish stock or a mixture of water and wine
2 tbspns double (heavy) cream

Take the stuffing ingredients and whizz them together in a food processor. You can mix by hand which will result in a coarser texture, but I prefer a smooth mousse.
Set aside in the fridge for about an hour.
Spread the mousse on the skin side of each prepared fillet and roll up tightly.
Put the fillets in a pan just big enough to take them - pour over the stock.
Bring the liquid up to simmering point and then cover the pan.
Cook for about 10 to 12 minutes.
Keep the plaice rolls warm whilst you reduce the stock a little and then stir in the cream.
Sprinkle a little paprika over the fillets for color.
Serve the rolls with a little sauce poured over.
Some boiled, buttered vegetables and potatoes would go well with this crab stuffed fish recipe. It doesn't need any 'dressing up' it's quite fancy itself!
This recipe will serve 4 - either use four large fillets and cut them in half lengthways or 8 small fillets - the portion is two rolls each.
The crab can be canned, frozen or fresh. I like to use a mixture of brown and white, but it's up to you. A lot of people would use only white, but I feel that the stronger flavour comes from brown and so I like to mix them. It's largely a matter of appearance and entirely up to you.
As you can see from the ingredients - it's not what you would call a slimming diet recipe - you could cut the calories by substituting the cream for low fat yoghurt - personally I like the cream :-)
If you need a recipe for fish stock - click this link - it will take you to another page on my site and a new window will open.
If you like this crab stuffed fish recipe, there are some beautiful recipes here that you may enjoy too. 
Some of the links on this site include affiliate links, providing Find-a-Seafood-Recipe a small percentage of the sale at no additional cost to you. 

Subscribe to Seafood Recipe News - complete the form below.
Your email address is secure and will *only* be used to send Seafood Recipe News. When you confirm your subscription, you will be taken to a page where you can access your free eCourse. Complete the form and it will arrive over the following five days.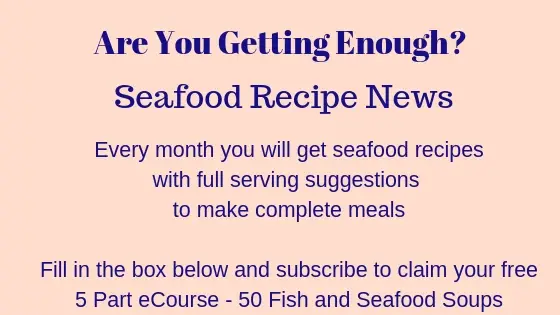 Plaice Stuffed With Crab
By Liz Alderson, Mar 30, 2016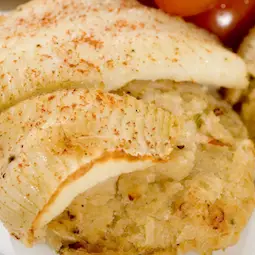 A very fine plaice stuffed with a crab mousse. Rich tasting and luxurious. The mousse is simple to make and the stuffed plaice will take around 12 minutes to cook.
Prep Time: 10 minutes

Cook time: 12 minutes

Yield: 4

Main Ingredient: plaice, crab, cream