Crockpot Seafood Chowder Recipe
As an Amazon Associate I earn from qualifying purchases.

A crockpot seafood chowder recipe that's simplicity itself. Use any mixture of white fish you like including some smoked fish - oily fish is not suitable for this recipe though.
Try a mixture of wet and smoked fish for a different flavor.
You could use mussels or shrimp - if they're cooked already you only need to add them just before serving.
This is a great use of the crockpot - you can have a lovely hot meal waiting for you.
---
Crockpot Seafood Chowder Recipe
1 lb (450g) fish fillets
4 oz (125g) bacon - diced
1 onion - peeled and diced
1 lb (450g) potatoes - peeled and diced
1 pint (600 ml) milk
1/2 pint (300 ml) water
1 bay leaf
1 tbspn worcester sauce
1 tablespoon of cornflour
2 tablespoons of milk

Heat the slow cooker to Low while you're preparing the ingredients.
Fry the bacon bits in a pan until the fat runs - then add the potato and fry for 5 mins or so until beginning to soften. Add the onions and fry a further 5 mins - add a little oil if necessary.
Transfer these to the crockpot.
Cut the fish into chunks, add them to the pot with the rest of the ingredients - just keep back the 1 Tablespoon of cornstarch/cornflour and 2 Ts of milk.
Cook on low for about 5 hours.
At this point, taste and adjust the seasoning.

Mix the cornflour and milk together smoothly and pour into the chowder to thicken it. Stir very well and leave for another 30 minutes or so.
If you like your chowder a little thicker, than double up the cornflour.

Serve with crusty bread for a lovely hearty seafood chowder.
This makes a great meal for the family - using the slow cooker makes it a meal that you can prepare during the afternoon if you're in, leaving it to cook and ready to serve when everybody is home and wanting to eat later.  
I love my crockpot for cooking meals in advance - it makes life so easy, knowing that you've got a good meal waiting for you when you've finished your chores. Men and children can use them too :-) it's a known fact! 
You may also like these recipes
Some of the links on this site include affiliate links, providing Find-a-Seafood-Recipe a small percentage of the sale at no additional cost to you. 

Subscribe to Seafood Recipe News - complete the form below.
Your email address is secure and will *only* be used to send Seafood Recipe News. When you confirm your subscription, you will be taken to a page where you can access your free eCourse. Complete the form and it will arrive over the following five days.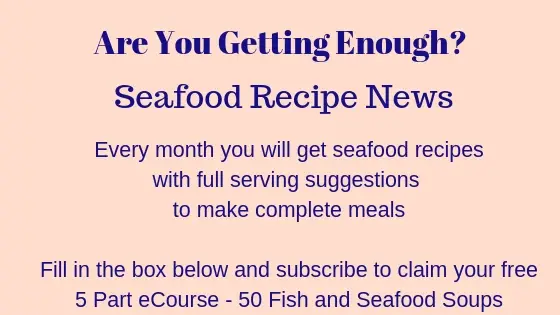 Crockpot Seafood Chowder
By Liz Alderson, Mar 30, 2016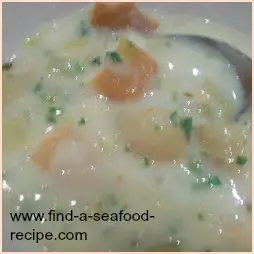 Seafood Chowder in the crockpot, what could be better? .
Prep Time: 5 minutes

Cook time: 300 minutes

Yield: 4

Main Ingredient: fish, potatoes, bacon