Cooking Salmon Fillet
Salmon with Dill

As an Amazon Associate I earn from qualifying purchases.

This foolproof method of cooking salmon fillet uses the slow cooker or crockpot (depending on where in the world you live!)
As you can see from the photo, you get your potato side in the overall cooking time. The  potatoes will protect the fish from getting direct heat.

Add some buttered green veg, broccoli, beans or similar and you've got a really easy meal.

I promise, a child could do this cooking!
For more fillet of salmon recipes, go to the bottom of this page where you'll find links for different methods.
An overall tip is that you need ten minutes cooking time with direct heat per inch of fish - pan frying is perfect as you can seal in the moisture quickly.
---
Salmon Fillet with Dill
2 T melted butter (2 oz, 50g)
1 onion, thinly sliced
1lb potatoes - thinly sliced
1 cup fish stock/water/wine (100 ml, 1/4 pint)
4 x skinless fillet of salmon
1 lime - zested and juiced
2 T chopped fresh dill or 2 t dried
salt and pepper to taste
lime wedges to serve
Brush the slow cooker with half the butter then layer the potato and onion on the bottom.
Sprinkle a little salt and pepper between the layers as you go.
Add the stock/water/wine and the rest of the butter.
Cover and cook on low for around 3 hours until the potato is soft.
Remove the lid and add the fish in a single layer - try not to overlap.
Pour over the lime juice and zest and a few twists of black pepper.
Sprinkle the dill over and cook for a further one hour or so.
The fish will be firm to the touch when it's cooked and should flake easily.
It 'steams' over the vegetables and will be extremely succulent - this cooking method would work for most fish and the timings will be around the same.
Try these different methods of cooking salmon fillet
They are all really easy and super quick. Get your sides ready before you start to cook as it will happen so quickly at the end. Have hot plates so that things don't cool off too quickly.
Some of the links on this site include affiliate links, providing Find-a-Seafood-Recipe a small percentage of the sale at no additional cost to you. 

Subscribe to Seafood Recipe News - complete the form below.
Your email address is secure and will *only* be used to send Seafood Recipe News. When you confirm your subscription, you will be taken to a page where you can access your free eCourse. Complete the form and it will arrive over the following five days.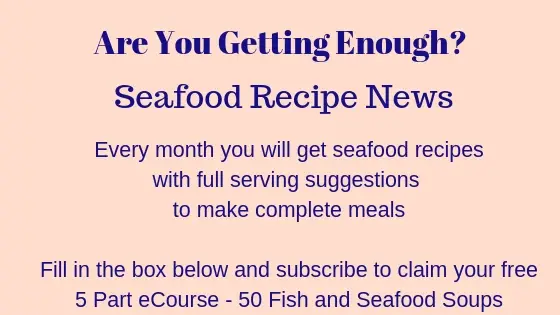 Salmon with Dill
By Liz Alderson,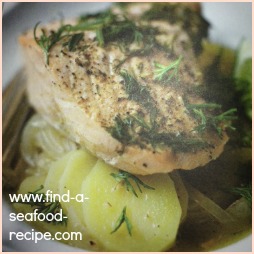 A method of cooking salmon fillet in the slow cooker or crockpot. Really easy and the majority of the cooking time is potatoes - a virtual one pot meal.
Prep Time: 10 minutes

Cook time: 240 minutes

Yield: 4

Main Ingredient: salmon, potatoes