Recipe for Seafood Alfredo

As an Amazon Associate I earn from qualifying purchases.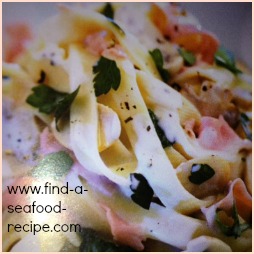 This recipe for seafood alfredo takes the creamy alfredo sauce and adds some seafood - prawn (shrimp)and scallops in this instance, but you can choose a mixed seafood if you like.
I like to serve it over fettucine, spaghetti or tagliatelle but you can choose any other pasta you prefer.
It's a heavily creamy sauce and you will need to be careful when heating it that you don't let it boil or it might separate and curdle.

---
Seafood Alfredo

3 oz (100g) butter
1 small clove garlic, peeled and crushed
1/4 pint(150 ml) double (heavy) cream
3 oz (80g)freshly grated parmesan cheese
6 oz (150g) peeled cooked prawns (shrimp)
8 scallops - cleaned and sliced in half
1lb (450g) fettucine

Melt half the butter in a frying pan and lightly cook the garlic, until softened. Add the scallops and cook until firm - then add the prawns and heat through.
Remove and keep warm whilst you make the rest of the alfredo sauce.
Melt the rest of the butter over a low heat. Remove the pan from the heat and stir in the cream and cheese.
Return to a low heat and do not allow the mixture to boil - it will separate - stir until it's thickened and then add the scallops and prawns to the cream mixture.
Reheat very gently and pour over freshly boiled fettucine.
Extra parmesan cheese can be served to sprinkle over and I would highly recommend some lovely fresh crusty bread and butter to mop up the sauce.
This is an excellent recipe for a dinner party but it is very rich and so you would need to serve simple starters and dessert unless you want to feel slightly queasy!
Cook's Notes

I love creamy seafood sauces, but sometimes find that the heavy cream is just too 'heavy'! 

I substitute a cream cheese in this recipe - in the UK we have a brand called Philadelphia but that is extremely expensive and so I tend to use the shop's own brand which is a fraction of the cost. So far as the taste goes, I can't tell the difference once it's seasoned - the difference I can see in my purse!
You may also like these recipes
Some of the links on this site include affiliate links, providing Find-a-Seafood-Recipe a small percentage of the sale at no additional cost to you. 

Subscribe to Seafood Recipe News - complete the form below.
Your email address is secure and will *only* be used to send Seafood Recipe News. When you confirm your subscription, you will be taken to a page where you can access your free eCourse. Complete the form and it will arrive over the following five days.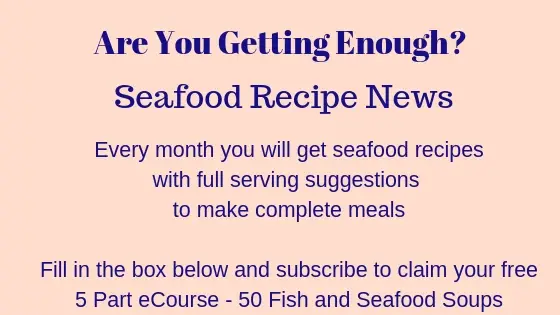 Recipe for Seafood Alfredo
By Liz Alderson, Mar 24, 2017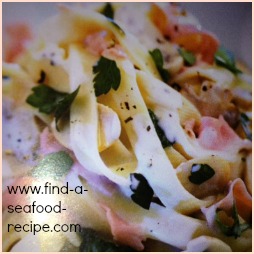 Gorgeous creamy alfredo sauce with the addition of seafood - a winning combination.
Prep Time: 5 minutes

Cook time: 20 minutes

Yield: 4

Main Ingredient: shrimp, scallops (optional), cream, pasta