Rosemary Herb
As an Amazon Associate I earn from qualifying purchases.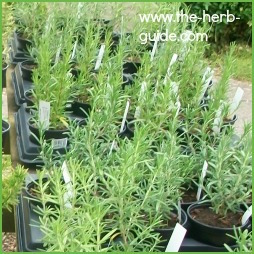 The Rosemary herb is a highly aromatic evergreen shrub, but you need to look after it in colder climates in the winter.
It can be used in an infusion to combat flatulence and aid digestion, seeped in wine or liquer (about 8 days and no more than two glasses a day for two months) to aid circulation problems.
Oil of rosemary is good for bruises and gout and an infusion of rosemary water is beneficial to rinsing dark hair - it is reputed to stimulate growth as well.
---
Growing Rosemary It is possible to grow rosemary from seed (sow outdoors in April) but it is quicker to take cuttings in March from the old plants.

Rosemary needs a sunny position in light, well drained soil. It needs lime, so if your soil is not suitable, then a few crushed eggs shells, some garden lime or powdered chalk should be worked into the soil around it.
The rosemary bush needs winter protection in colder climates - for this reason, it is a suitable plant for bringing indoors - however it can grow very large (up to 5ft high)
Overwinter one of your spring cuttings indoors and if the worst happens to your outside rosemary herb shrub, then you will have a replacement the following spring to harden off and plant outdoors.
Drying Rosemary If you overwinter your cutting, then you will have no need to dry, but if you have no room, then harvest the branches in the late summer. Spread them on a tray in an airing cupboard and once dry, carefully take the needle like leaves off and put them into a dark, airtight container.
As always, my advice is this - if you haven't got fresh rosemary, then the drying processes are so complicated, buy some dried rosemary herb from a busy shop - one where stock is regularly replaced and keep it yourself just a few months.
Using Rosemary with fish Rosemary is a very strong herb and you should really only use it with strong tasting fish. Add three or four leaves to a glass of wine to marinade salmon, eel or halibut prior to cooking.
Rosemary Oil Add a few leaves to olive oil and leave to infuse for 3 weeks. Use this oil to brush strong tasting fish prior to grilling.
Rosemary Butter Snip a few leaves into short pieces and mix into butter. Use to top plain grilled or baked strong fish.
Rosemary has many more uses, but once again, I am trying to stay focussed on its usefulness in cooking fish and seafood. Can't help but look at the medicinal uses though - I'm fascinated by it...
You may also like these pages
Some of the links on this site include affiliate links, providing Find-a-Seafood-Recipe a small percentage of the sale at no additional cost to you. 

Subscribe to Seafood Recipe News - complete the form below.
Your email address is secure and will *only* be used to send Seafood Recipe News. When you confirm your subscription, you will be taken to a page where you can access your free eCourse. Complete the form and it will arrive over the following five days.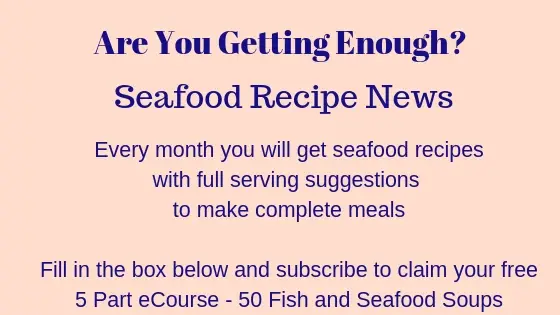 Find A Seafood Recipe

>
Fish With Herbs
> Rosemary