Basil
As an Amazon Associate I earn from qualifying purchases.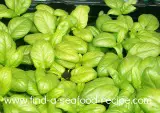 Basil is a tender plant and can be grown indoors. This has its uses in that it is reputed to keep flies away!
If you sow the seed in early spring, then you can harden off the plants to set outside for the summer. They need a good sunny position and the soil needs to be kept moist.
Cut the leaves as often as you like during the growing season.
You can lift a plant to take indoors at the end of the summer and this should provide you with fresh herbs into the winter.
It is rich in oil and drying it is not always successful as the leaves can be damaged by picking, thus releasing the oils.
---
You can try, by laying freshly cut leaves on paper and putting them in your airing cupboard or somewhere similar. After three or more days, the leaves should be brittle and you simply break them up with your fingers and put them in a light proof container with an airtight lid.
Freezing it tends to be more successful - put the leaves in a poly bag and freeze. When they are brittle, then you can break them up.
You can use them frozen in tomato soups and pesto - recipe for that below.

Oil - take some olive oil and a handful of leaves. Leave it for at least three weeks and the herb will have infused its flavor into the oil.You can use this oil for making a pasta sauce (fry your onions etc in it) frying cubes of bread for croutons to go with a tomato based soup or drizzling over a salad.
Butter - chop a few leaves and mix into some butter. Use this on plain grilled or baked fish or on cooked prawns.
A few fresh leaves can be scattered over any seafood salad or added to spaghetti sauce dishes. Also scatter a few leaves over your seafood pizza sauce.
Pesto is another standby for putting on plain grilled fish - try it with salmon or sea bass.
Add a few prawns or shredded crab meat and mix it into cooked pasta for a quick meal.

1 cup firmly packed fresh basil leaves
1/2 cup firmly packed fresh parsley sprigs with stems removed or torn fresh spinach
1/2 cup grated Parmesan or Romano cheese
1/4 cup pine nuts
1 large clove garlic
1/4 teaspoon salt
1/4 cup olive oil
In a blender container or food processor bowl combine basil, parsley, Parmesan or Romano cheese, nuts, garlic, and salt. Cover and blend or process with several on-off turns until a paste forms, stopping the machine several times and scraping the sides.
With the machine running slowly, gradually add olive oil and blend or process to the consistency of soft butter.
It's possible to use frozen basil to make pesto.

There are many more culinary uses of course, but I am trying to stay focussed on herbs with fish - so I shall leave it here otherwise I run the risk of going 'off topic'
You may also like these pages
Some of the links on this site include affiliate links, providing Find-a-Seafood-Recipe a small percentage of the sale at no additional cost to you. 

Subscribe to Seafood Recipe News - complete the form below.
Your email address is secure and will *only* be used to send Seafood Recipe News. When you confirm your subscription, you will be taken to a page where you can access your free eCourse. Complete the form and it will arrive over the following five days.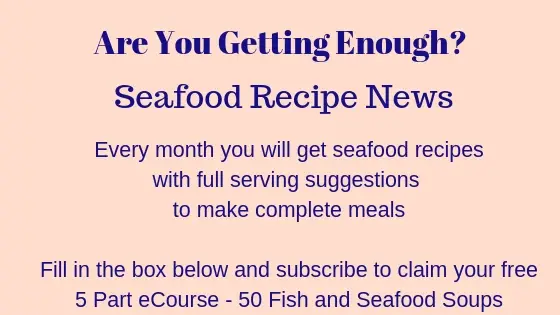 Find A Seafood Recipe

>
Fish With Herbs
> Basil
Find A Seafood Recipe

>
Fish With Herbs
> Basil