Fish Stuffing Recipes

As an Amazon Associate I earn from qualifying purchases.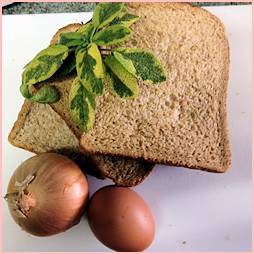 These fish stuffing recipes can be used to stuff whole fish before baking.
Any fish round about 12 oz to 1lb (375-450g) are suitable.
Make your breadcrumbs by either tearing up bread and putting it in a processor/liquidiser or grate it.
I always make stuffing - I haven't bought a packet since 1978 when I got my first blender - the taste is far superior to packets, less synthetic tasting and considerably cheaper I think.
I find that the bought stuffing, no matter what you do to it, is always dry and 'sharp' in texture - this homemade stuffing absorbs the juices and is lovely and moist.

---
Watch this demonstration of how to make Baked Stuffed Trout - the recipe is simple:
1 cup/4 ounces/100g breadcrumbs
1 stick/2 ounces/50g butter
fresh chopped parsley - handful or so
1 lemon - half zest and juice, half sliced
1 egg - beaten
salt and pepper
olive oil to brush fish
1 trout - gutted, cleaned and scaled 
Make the stuffing by melting the butter and mixing the ingredients together.
Put trout into foil and brush the skin with oil.
Bake in preheated 350F, 180C or Gas Mark 4 oven for 30 minutes until the flesh is firm to the touch.
Stuffed Mackerel
1 tbspn olive oil
1 onion - peeled and finely chopped
4 oz (100g) fresh breadcrumbs
handful chopped corainder
1 egg - beaten
4 mackerel - cleaned
lemon juice
black pepper

Heat the oven to gas mark 5 (190C or 375F)
Heat the oil in a pan and soften the onion.
In a bowl, combine the onion, breadcrumbs and coriander - mix well and then stir in the egg.
The mixture should be sticky.
Open the mackerel and divide the mixture equally between them.
Close them - they should be OK - the filling will spill a little, but that makes it nice and crispy.
Lay them in a greased dish, sprinkle lemon juice and a few twists of black pepper and bake in the oven for 30 minutes or so.
Fish Stuffing Recipes - variations
When I use larger leaved herbs, I tend to add them to the blender at the same time as I process the bread - it gets a really fine chop and mixes it all together at the same time.

To the basic onion/breadcrumb/egg mix, you can add:-

a few sage leaves
handfull of chopped parsley
few sprigs of dill
a couple of sprigs of thyme
a couple of sprigs of rosemary

You could also use dried herbs in this recipe.
You may also like these recipes
Some of the links on this site include affiliate links, providing Find-a-Seafood-Recipe a small percentage of the sale at no additional cost to you. 

Subscribe to Seafood Recipe News - complete the form below.
Your email address is secure and will *only* be used to send Seafood Recipe News. When you confirm your subscription, you will be taken to a page where you can access your free eCourse. Complete the form and it will arrive over the following five days.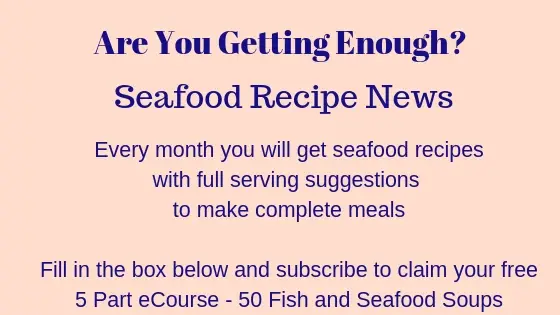 Stuffed Mackerel
By Liz Alderson, Mar 30, 2016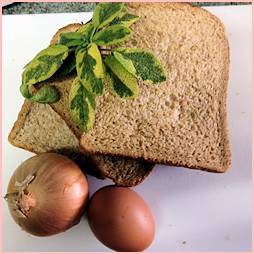 This easy Stuffed Mackerel recipe can be used to stuff whole fish before baking.
Prep Time: 5 minutes

Cook time: 30 minutes

Yield: 2

Main Ingredient: mackerel