Mint Herb
As an Amazon Associate I earn from qualifying purchases.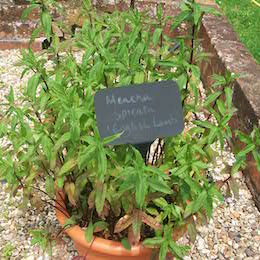 It grows so quickly and is 'invasive' - it's best to confine it to one area if you can - I have built a little area with stones that confines my mint, but to be honest, runners shoot up everywhere ;-)
It can be used in an infusion to aid digestion and a mint tea can ease stomach upsets.
It 'cuts through' fatty meat - that's why mint sauce is traditionally served with roast lamb. Personally I prefer a mint jelly as the vinegar in the sauce makes wine unpalatable - yeah right... 
Just make an apple jelly and chop a good handful of mint leaves into it.
---
Growing Mint Beg a runner from a friend or buy a small plant - confine it if you can or it will overrun your herb garden.
Plant the mint into a large pot and then sink it into the garden - give the pot a 'tug' every couple of months to detach the roots - it will confine to a degree, but you will no doubt find runners shooting up anyway - give them to a friend and warn them about the shoots - or an enemy and don't tell them!
In the second year of growth, you can cut freely - the more you cut, the more it shoots.
There are many varieties but the two I have are peppermint and apple mint plants.
You can take a runner and plant it up to bring indoors for the winter - the mint herb dies down in the winter - it's a perennial.
Drying Mint Cut stems just prior to the plant flowering and leave in a warm dry and airy place until the leaves are brittle. Rub them to make flakes and put them into an airtight jar.
I prefer to freeze the mint herb though as a way of using mint through the winter. Just cut young shoots and put them onto a tray in the freezer - once they're frozen, then pack them into a box and use as you would fresh.
Using mint with fish I like to chop some leaves into runny honey and use it to brush plain fish before grilling or barbecueing. Alternatively, make a marinade with a tablespoon of honey, a small glass of white wine and a few chopped mint leaves. Leave the fish to marinade for about an hour before grilling or baking.
Mint Butter Chop a few leaves and mix into butter. Use to top plain grilled or baked fish.
I always add a sprig of mint into my new potatoes when cooking and also I use it with peas and carrots - the mint herb reminds me of spring and I love to smell it during the winter so I make room in the freezer for it!
You may also like these recipes
Some of the links on this site include affiliate links, providing Find-a-Seafood-Recipe a small percentage of the sale at no additional cost to you. 

Subscribe to Seafood Recipe News - complete the form below.
Your email address is secure and will *only* be used to send Seafood Recipe News. When you confirm your subscription, you will be taken to a page where you can access your free eCourse. Complete the form and it will arrive over the following five days.
Find A Seafood Recipe

>
Fish With Herbs
> Mint