Parsley Herb
As an Amazon Associate I earn from qualifying purchases.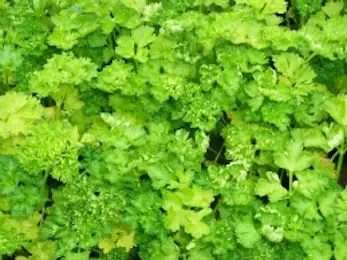 The parsley herb is one of the most essential herbs in any collection. It adds flavour to any dish and pleases the eye as a garnish.
It's a valuable source of Vitamins A, B and C and iron and other minerals.  It is also a mild diuretic and has been useful in the treatment of rheumatism and fluid retention.
---
Growing Parsley

Parsley takes a long time to germinate - 5 to 8 weeks - it's rumoured it goes to the devil and back 7 times before it germinates, but I don't believe that... Pour hot water onto the soil just before sowing - the heat will help germination.
It's suitable for growing indoors as well as out - it's a biennial, but it goes to seed in its second year and you'll need to sow fresh every year.
Sow a succession in March, May and July - overwinter outdoors by protecting with a cloche or a piece of polythene pegged down.
Drying Parsley
It is difficult to dry parsley - it needs a temperature of around 200F or 95C in an oven - rinse, shake dry and lay over a mesh - then leave the oven door slightly open until the parsley is brittle. Break it up and store in light proof jars.
If you can't be bothered to dry your own, then buy dried from a shop that is busy ;-)
Freezing Parsley
Harvest and rinse - shake dry and seal into poly boxes or bags. Alternatively, chop it finely and pack into ice trays - cover with water and once frozen, turn out into bags. Use the ice cubes as you would a tablespoon of fresh chopped parsley in cooking dishes. Don't forget to label it - one green herb looks much like another in the freezer.
Cooking with Parsley Herb
Well - there's parsley sauce, parsley butter - parsley with everything that has garlic in it - garnish with parsley.
Try this
Deep Fried Parsley Herb
Heat a pan of oil - whilst you're doing this, rinse and dry your parsley sprigs.
Pop the parsley into the oil for just 30 seconds and use to garnish any plain baked fish or seafood - delicious and crispy.
Parsley Oil
Take a handful of parsley and put it into a bottle of olive oil - leave three weeks or so for the flavours to infuse. Then use it in cooking where parsley is an ingredient of the finished dish to further enhance the flavour.
Parsley Herb Butter
Take a handful of chopped parsley and mix into 4 oz (100g) butter. Roll the butter into a sausage shape and then chill in the fridge for about an hour. Cut the butter into discs and pop onto plainly cooked fish or seafood - also onto cooked peas and other vegetables.
Parsley Sauce is a mainstay of fish and seafood cooking - it makes the blandest of fish taste superb - there is a recipe for parsley sauce in the 'seafood sauces' section on the navigation bar - loads of ideas for fish sauces there. You can use parsley sauce in a fish pie by mixing prepared fish into it and then putting it into the base of an ovenproof dish - cover with mashed potato and bake in a moderate oven for about 30 mins.
You may also like these recipes
Some of the links on this site include affiliate links, providing Find-a-Seafood-Recipe a small percentage of the sale at no additional cost to you. 

Subscribe to Seafood Recipe News - complete the form below.
Your email address is secure and will *only* be used to send Seafood Recipe News. When you confirm your subscription, you will be taken to a page where you can access your free eCourse. Complete the form and it will arrive over the following five days.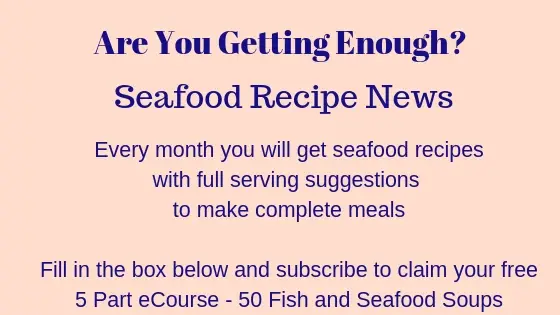 Find A Seafood Recipe

>
Fish With Herbs
> Parsley