Monkfish Recipe


As an Amazon Associate I earn from qualifying purchases.

Tomato, white wine, prawns and olives
This monkfish recipe is my all time favorite. I first tasted monkfish in Portugal in 1981 and when I got home, I developed this tomato and white wine sauce to go with it - a huge success with all my friends and family.
This is one ugly fish, I must say - you don't get to see the head very often thank goodness, just the tail - the meat of which is divine. It has a face that only a mother would love! 
Before you cook monkfish, you must take all the skin/membrane off - if you don't it toughens as it cooks - you'll need a sharp knife to do this, just pull and peel until it's gone.
Also, it's important to fry off the monkfish chunks quickly in oil - if you don't it will shred in the sauce and will be more reminiscent of white crab meat. You just need to seal it like you would chunks of beef or other meats.
It will still taste very nice, but won't give you the satisfying meaty chunk
---
Monkfish with tomatoes and olives

2 tbspns olive oil
2 cloves garlic, skinned and crushed
1 small onion, peeled and chopped
1lb (450g) ripe tomatoes - skinned and chopped (or can of chopped plum tomatoes)

1 250 ml glass white wine
1 tbspn tomato puree
basil - 1 tspn dried, handful, fresh
1lb (450g) monkfish tail - cut into cubes
6 oz (150g) peeled and defrosted cooked shrimp
12 black olives - pitted

Heat 1 tbspn oil in a pan and soften the garlic and onion. Add the tomatoes, tomato puree, wine and basil and simmer until thickened.
In another pan, heat 1 tbspn olive oil and quickly fry off the monkfish. The idea is to seal it, not cook it through.
Add the monkfish and oil to the tomato sauce and simmer gently for about 5 minutes - until the monkfish is cooked.
Add the prawns and olives and heat through.
Serve with boiled new potatoes or saute potatoes, green beans, broccoli and cauliflower. Provide some fresh crusty bread to mop up the sauce.
You may also like these recipes
Some of the links on this site include affiliate links, providing Find-a-Seafood-Recipe a small percentage of the sale at no additional cost to you. 

Subscribe to Seafood Recipe News - complete the form below.
Your email address is secure and will *only* be used to send Seafood Recipe News. When you confirm your subscription, you will be taken to a page where you can access your free eCourse. Complete the form and it will arrive over the following five days.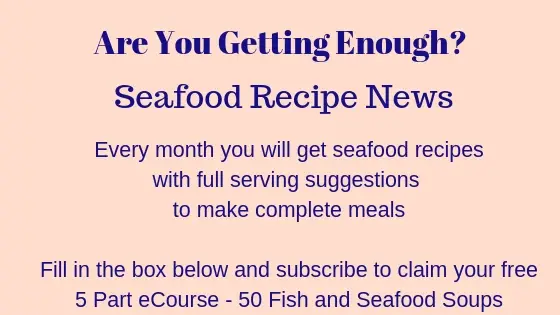 Monkfish Recipe
By Liz Alderson, Mar 21, 2017
Gorgeous meaty monkfish cooked in a tomato and wine sauce.
Prep Time: 15 minutes

Cook time: 20 minutes

Yield: 4

Main Ingredient: monkfish, tomato, shrimp