Tomato Sauce
As an Amazon Associate I earn from qualifying purchases.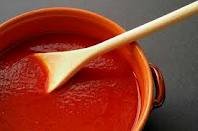 I use this tomato sauce recipe frequently. Tomatoes are a rich source of vitamin C and they feature heavily in mediterranean cooking.
This sauce is so versatile - from here, you can add canned fish or defrosted seafood to make a pasta sauce.
You could add some defrosted prawns (shrimp) and serve it over boiled rice.
You could use it as a pizza base sauce - add some canned pilchards, sardines, anchovies, mixed seafood and mozzarella cheese.
You could fry off some monkfish or halibut cut into chunks and add that to the sauce - serve with boiled potatoes and vegetables.
The possibilities are endless - this is such a quick, tasty and versatile sauce - virtually store cupboard ingredients again.
You can make a batch of it and freeze portions to bring out later.
---
It's the basis of many of my meals and I always double up when I'm making it.
If you like a less chunky sauce, then you can whizz it up in a processor or use a stick blender - alternatively, pass it through a sieve.
All you do there, is just pour it into your sieve (don't forget to put another pan or a bowl underneath!) and then push it through with the back of a wooden spoon - this gives a coarser texture than using a processor and although it's a bit messy and gives you some more washing up, it's the preferred method.
Tomato and White Wine Sauce
1 tbspn olive oil
1 onion - peeled and finely chopped
1 clove garlic - peeled and crushed
1 14 oz (400g) can peeled plum tomatoes
1 tbspn tomato puree
1 small glass white wine
1 tbspn fresh chopped basil - or dried to taste
salt and freshly ground pepper

Heat the oil in a pan and gently fry the onion and garlic until softened.
Add the tomatoes - break them up into a pulp - and the tomato puree and white wine. Simmer for about 15 minutes until thickened.
Add the basil and taste - adjust seasoning.
You may also like these recipes
Some of the links on this site include affiliate links, providing Find-a-Seafood-Recipe a small percentage of the sale at no additional cost to you. 

Subscribe to Seafood Recipe News - complete the form below.
Your email address is secure and will *only* be used to send Seafood Recipe News. When you confirm your subscription, you will be taken to a page where you can access your free eCourse. Complete the form and it will arrive over the following five days.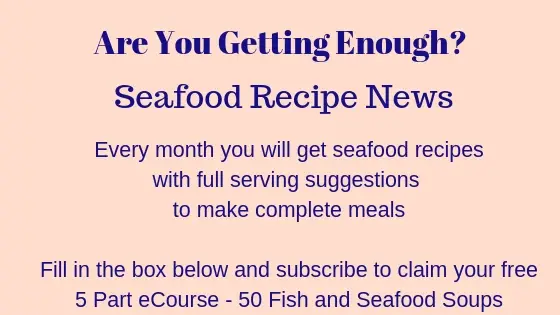 Tomato Sauce
By Liz Alderson, Mar 30, 2016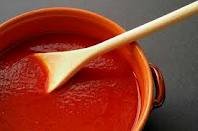 A really versatile tomato sauce recipe that will go well with fresh or canned seafood and fish pasta dishes as well as be a great base for seafood and fish stews.
Prep Time: 5 minutes

Cook time: 16 minutes

Yield: 4

Main Ingredient: tomatoes, onion, basil