Whole Baked Sea Bream

As an Amazon Associate I earn from qualifying purchases.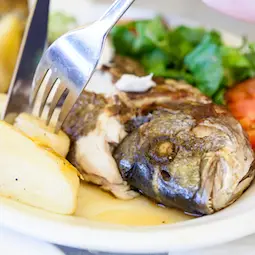 This whole baked sea bream is simplicity itself.
The potatoes are par boiled prior to adding to the dish, you lay the fish on top and the juices flavor the potatoes.
Olives add a piquancy to the finished dish
Serve with a simple green vegetable, such as spinach or broccoli or a salad.
The recipe serves 2 - 1 fish around 500g gutted will split into 2 servings
---
Whole Baked Sea Bream
1lb (500g) new potatoes
1 whole seabream 2lbs (1k) or thereabouts - gutted and scaled
Olive oil
1 small glass white wine
2 cloves garlic - peeled and crushed
12 black olives - pitted and halved
pepper - fresh black
squeeze of lemon juice
handful fresh chopped parsley
If you don't know how to gut and scale the fish, then ask your fishmonger who will be pleased to do it for you – however, watch and learn so you can do it yourself if you have to!
Heat your oven to Gas Mark 7 or 220C
Parboil the potatoes for about 10 minutes, cool then slice into rounds.
Take a large bowl and toss the potatoes, garlic, parsley, olives, oil and lemon juice.
Wash and dry the fish.
Season with pepper inside and out.
Oil an ovenproof dish and spread the potato mixture on the bottom - lay the fish on top.
Pour the wine over and bake in the oven for about 30 minutes until the fish is cooked through.
You can test for 'doneness' by pressing the fish with your finger - if it's firm, then it's ready.
Serve hot with the juices poured over.
This is perfect for a quick meal for two - there is little work to do and it's a really simple fish meal.
If you don't like black olives – and many people don't – a few chopped anchovies would add a great flavor to the potatoes - or don't bother with either.

You may also like these recipes
Some of the links on this site include affiliate links, providing Find-a-Seafood-Recipe a small percentage of the sale at no additional cost to you. 

Subscribe to Seafood Recipe News - complete the form below.
Your email address is secure and will *only* be used to send Seafood Recipe News. When you confirm your subscription, you will be taken to a page where you can access your free eCourse. Complete the form and it will arrive over the following five days.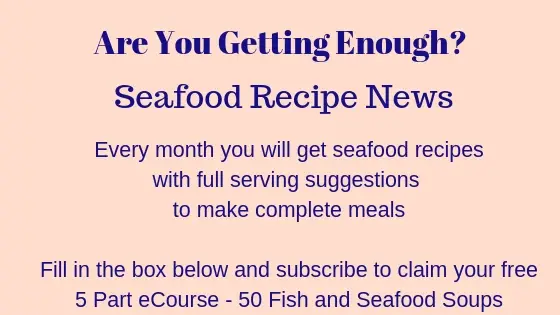 Whole Baked Sea Bream
By Liz Alderson, Mar 30, 2016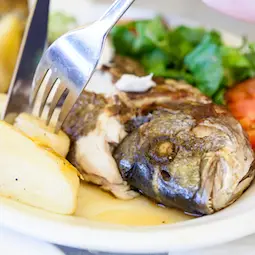 A very easy but special meal for two people. Of course, you can bake two sea bream if you want to. This would be great at a dinner party and is so simple to make - you do the preparation and then finish it off in the oven, leaving you free to do appetisers, desserts or have a glass of wine with your friends.
Prep Time: 15 minutes

Cook time: 30 minutes

Yield: 2

Main Ingredient: sea bream, potatoes, white wine