White Fish Recipe
As an Amazon Associate I earn from qualifying purchases.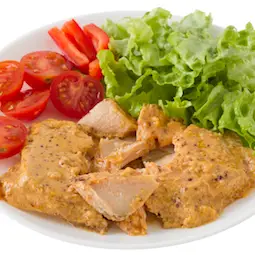 Turbot and halibut are two of my favourites.
This white fish recipe is suitable for either - to be honest, it's such a simple method it would suit most firm white fish steaks.
Some new potatoes and plainly boiled broccoli and green beans would go well with this fish recipe.
---
White Fish with Mustard Sauce
4 halibut or turbot steaks - about 1 in (2.5cm) thick
olive oil for brushing
salt and pepper
few sprigs fresh parsley
lemon slices to serve

Mustard Sauce
4 tbspns dijon mustard
1/2 pint (300ml) double cream
1/2 tspn sugar
1 tbspn lemon juice

Heat the grill to medium - season the the fish steaks with salt and pepper and brush with oil.
Grill for about 5 minutes or so each side - season and brush with oil when you turn them.
Meanwhile, make your mustard sauce by putting all the ingredients into a saucepan. Stir constantly while the mixture comes to the boil. It will thicken slightly and then remove it from the heat.
Taste and adjust seasoning if you wish.
Serve the fish steaks with the sauce over and lemon wedges.
Halibut can be a little dry, so beware of grilling without planning to use a sauce. This dijon and cream sauce is ideal to serve as it has a delicate flavour that won't overpower the fish.
Neither halibut nor turbot are cheap, but a little will go a long way. Waste is minimal as they are sold prepared and you're not paying for bits that you can't use, such as bones. 
It is extremely 'meaty' and is one of my favourite fish - I also love turbot and monkfish. 
Cook's Notes

This recipe is very adaptable. You could use it for any firm white fish such as haddock, cod, whiting, basa and similar.

It would be suitable as well for whole small fish - sea bream or sea bass would be particularly good with it. 

As you can see, the sauce is super simple to make - five minutes or so and just four ingredients. 
Looking for a white fish recipe - more to choose from 
Some of the links on this site include affiliate links, providing Find-a-Seafood-Recipe a small percentage of the sale at no additional cost to you. 

Subscribe to Seafood Recipe News - complete the form below.
Your email address is secure and will *only* be used to send Seafood Recipe News. When you confirm your subscription, you will be taken to a page where you can access your free eCourse. Complete the form and it will arrive over the following five days.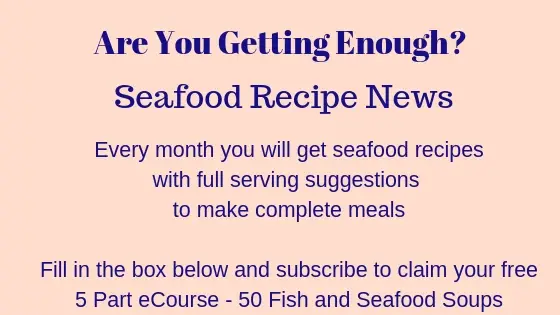 Halibut with Mustard Sauce Recipe
By Liz Alderson, Mar 30, 2016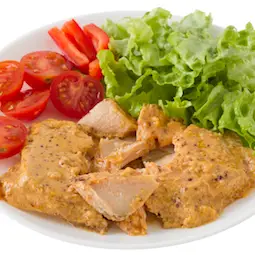 Gorgeous meaty halibut cooked in a delicious mustard sauce. Super quick to make .
Prep Time: 5 minutes

Cook time: 10 minutes

Yield: 4

Main Ingredient: halibut or turbot, dijon mustard, cream