Smoked Salmon Recipes
As an Amazon Associate I earn from qualifying purchases.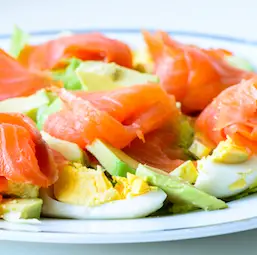 There are links to more smoked salmon recipes at the bottom of this page, but let's start with this one - salmon with avocado.  I like to add boiled eggs, but they're optional if you don't want them. 
I love smoked salmon - I like it as a sandwich - brown bread and butter with black pepper and lemon - in fish cakes, made into a pate, in a quiche - I could go on.
There is something about smoked salmon that is pure luxury and it's so easy to find.
Many supermarkets have special offers - buy one get one free or a discount - plus you can normally find offcuts - the trimmings - which are great if you're going to chop it up anyway for a pate, fish cakes or quiche.  
This recipe is better with proper slices - either packs or a small side - about 400g in total.
It is ideal as an appetiser or a lunch - brown bread and butter would be perfect. I also like to make a very large platter of it and use it as a centrepiece for a buffet.  If you prefer, you could put a bed of salad leaves on the plate as a base. 
---
Smoked Salmon Appetizer

400g (14oz) smoked salmon slices
2 large ripe avocados - peeled and diced
2 hard boiled eggs, quartered 
1/2 cucumber - diced
2 tomatoes - diced
fresh coriander - chopped
lemons - 2 cut into wedges
black pepper

Divide the smoked salmon between four plates.
Divide the diced avocado, cucumber and tomato - scatter it over the smoked salmon.
Squeeze some lemon juice over and a few twists of black pepper.
Serve with a lemon wedge and some thinly sliced brown bread and butter.
This short video shows you how to make a Crustless Quiche using smoked salmon offcuts.
It tastes absolutely gorgeous - it's also Weight Watcher friendly, low carb too.
Ingredients:
1 pack smoked salmon offcuts 
4 tablespoons cream cheese
2 eggs
cooked broccoli
pepper - probably no salt required
dill or chives to your taste
Oven 350F, 175C or Gas Mark 4 for 30 minutes.

More Smoked Salmon Recipes
Some of the links on this site include affiliate links, providing Find-a-Seafood-Recipe a small percentage of the sale at no additional cost to you. 

Subscribe to Seafood Recipe News - complete the form below.
Your email address is secure and will *only* be used to send Seafood Recipe News. When you confirm your subscription, you will be taken to a page where you can access your free eCourse. Complete the form and it will arrive over the following five days.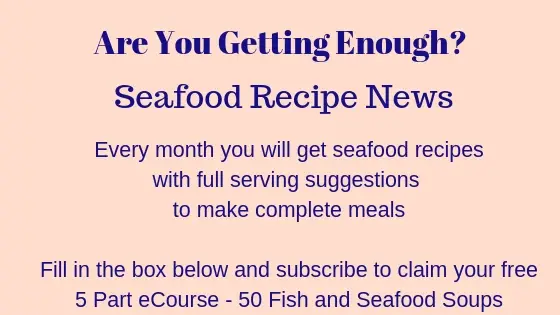 Smoked Salmon Appetizer
By Liz Alderson, Mar 30, 2016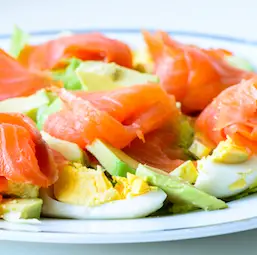 This is the easiest of smoked salmon recipes and makes a great appetiser - salmon with avocado.
Prep Time: 5 minutes

Cook time: 0 minutes

Yield: 2

Main Ingredient: smoked salmon slices, avocado