Eggs Royale 
As an Amazon Associate I earn from qualifying purchases.

Eggs Royale - one of my favourite breakfasts.
A luxurious blend of hollandaise sauce, smoked salmon and soft poached eggs.
It can be a bit of a fiddle putting it all together, but it's worth it and if you follow my method for making poached eggs, you will not panic at all! 
Simple method for making Hollandaise sauce in the blender.
I like to serve my sauce separately in a jug so people can have as much or as little as they like.
---
You will need for each serving:-
1 English Muffin
2 poached eggs
1 slice of smoked salmon or more
Hollandaise Sauce
4 egg yolks
2 tbspns white wine vinegar
2 tbspns water
2/3 Cup, 6 oz (150g) melted butter
salt and pepper
First of all, follow my instructions to make the perfect poached eggs - the link is at the bottom of the page. Get them to the stage of putting them into cold water and that way, you will be ready to assemble the dish quickly.
Then make the hollandaise sauce.
Melt the butter in a pan.
Put the egg yolks, vinegar, water and a few twists of pepper into a blender or processor. Blend until it is thick and frothy.
Keep the blender running and add the warm melted butter in a thin stream - make sure it's not too hot or it will scramble the egg rather than use the egg as a thickener. 
It should have a slightly sharp taste.
Split and toast your muffins.
Whilst you are doing this, bring your egg water back up to a boil in preparation for finishing the eggs.
Put the smoked salmon onto the toasted muffin halves, put an egg on top of each one and then spoon the sauce over.
You will have a meal fit for a king!
Eggs Benedict is exactly the same method, but you use slices of cooked ham instead of the smoked salmon.
Cooks Tips
If your blender doesn't have a hole in the lid where you can pour stuff in, then add a tablespoon of butter at a time, blend then add some more.
If you don't have a blender, you can use an ordinary balloon whisk, it will have the same effect but you'll get more exercise :-)
Some of the links on this site include affiliate links, providing Find-a-Seafood-Recipe a small percentage of the sale at no additional cost to you. 

Subscribe to Seafood Recipe News - complete the form below.
Your email address is secure and will *only* be used to send Seafood Recipe News. When you confirm your subscription, you will be taken to a page where you can access your free eCourse. Complete the form and it will arrive over the following five days.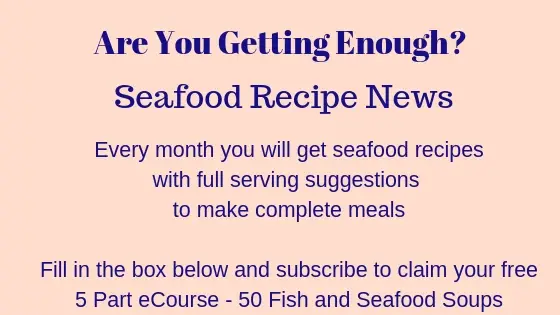 Eggs Royale
By Liz Alderson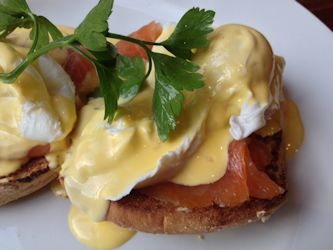 A very special breakfast or brunch, Eggs Royale - smoked salmon, poached eggs on a toasted English Muffin with a superb Hollandaise Sauce - there's an easy blender method to help you do it quickly.
Prep Time: 10 minutes

Cook time: 10 minutes

Yield: 2

Main Ingredient: smoked salmon, eggs