Smoked Salmon Quiche
Cream Cheese and Broccoli Crustless
As an Amazon Associate I earn from qualifying purchases.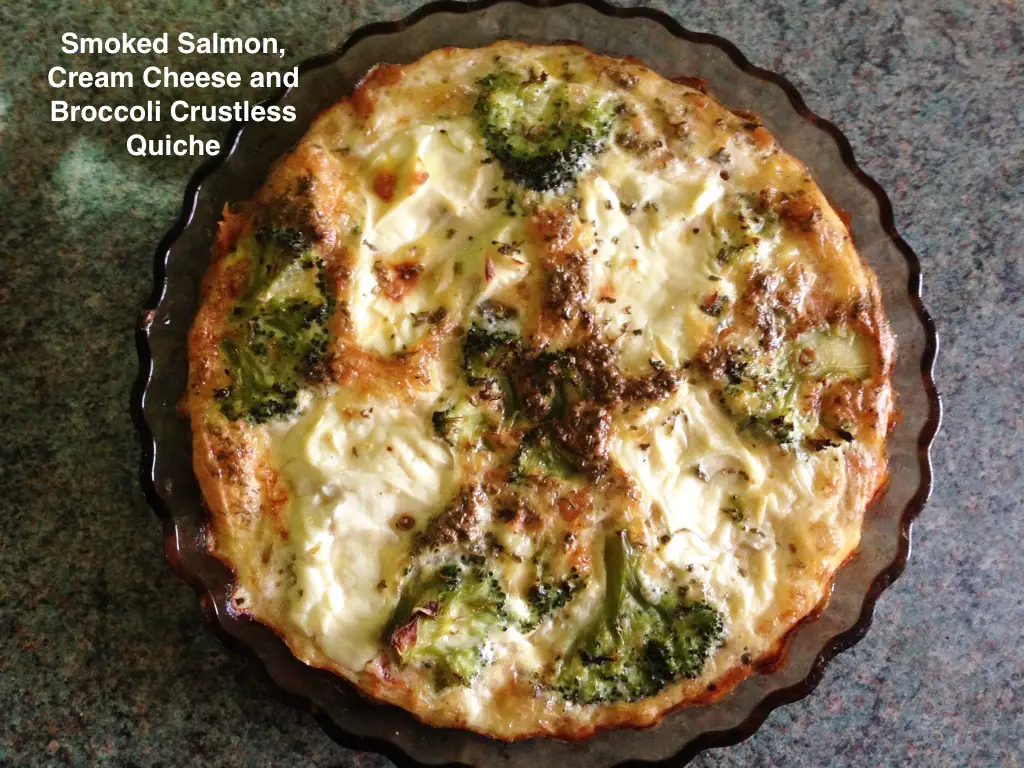 This crustless smoked salmon quiche with cream cheese and broccoli is perfect for low carb and gluten free diets.
It's only 15 Weight Watcher smart points as well - so a generous quarter is 4 points. Add some new potatoes and salad, fat free dressing and you've got a super tasty meal for around 9 points.
Being crustless, it's quick to put together and if you're not a pastry expert, then you'll love this.
It makes a great base recipe for a number of different quiches - I use chopped vegetables or cubed ham as well. 
Mix and match is the perfect way to learn how to cook 'on the fly'. A few basic recipes  and then change them to suit what's in the cupboard. 
I've done a video - it's one of my first, so hopefully things will improve ;-) 
Please give it a thumbs up and subscribe to my channel. I need all the encouragement I can get - it's so nerve wracking! 
There are links to a couple more quiches and a tutorial on making shortcrust pastry at the bottom of this recipe. The filling I've made here would work just as well in a pastry case. 
---
Ingredients:
1 pack smoked salmon offcuts
1/2 tub low fat cream cheese
cup cooked broccoli or asparagus
2 eggs
1 tablespoon water
pepper
tablespoon chopped herb - dill, parsley or chives
Method
Set your oven to 350F, 175C or Gas Mark 4 whilst you assemble the quiche.
Spray an 8" shallow dish with oil.
Arrange the smoked salmon on the base - spread it evenly.
Divide the cream cheese into four and place it evenly around the dish.
Arrange the broccoli or asparagus in between.
Beat the eggs with a tablespoon of water, ground black pepper and some herbs of your choice.
Pour the egg mixture over.
Into the oven for around 30 minutes - the top should be set firm, give it another five minutes or so if it's not.
Let the smoked salmon quiche cool in the dish for ten minutes or so, that will make it easier to remove cleanly.
I like to serve this with some new potatoes and chopped salad. I use either low fat mayonnaise or a fat free dressing. 
This is perfect for picnics - it's just as tasty cold.
Some of the links on this site include affiliate links, providing Find-a-Seafood-Recipe a small percentage of the sale at no additional cost to you. 

Subscribe to Seafood Recipe News - complete the form below.
Your email address is secure and will *only* be used to send Seafood Recipe News. When you confirm your subscription, you will be taken to a page where you can access your free eCourse. Complete the form and it will arrive over the following five days.