Seafood Lasagne Recipes
As an Amazon Associate I earn from qualifying purchases.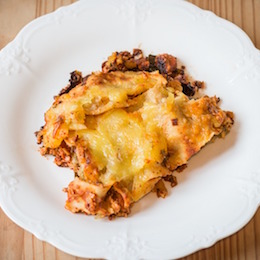 A great selection of seafood lasagne recipes - the mixture can be to your taste or availability - canned tuna, crab or shrimp - fresh white fish, tuna, prawns - frozen mussels, lobster, shrimp, crabmeat - your choice.
Mix two or three different types to a total of 12 ounces - the taste of the tomato sauce with herbs will be fairly dominant, so don't waste money on really expensive, delicate flavored fish, such as sole.
I have made a very tasty seafood lasagne/lasagna purely out of canned tuna and a handful of defrosted prawns (shrimp).
In the UK, we have italian stock cubes available - I sometimes use one of those instead of the basil - it is really tasty and not much of a cheat. 
I would sometimes use passata (sieved tomatoes) instead of canned tomatoes and add the herbs. 
Also, if I feel like it, I would use a jar of italian tomato sauce - such as Dol Mio or Ragu as my tomato base. I would then purely add the seafood mix to this and make up the seafood lasagne recipes in the normal way.
Watch this super easy video where I'm showing you how to make tuna lasagne cooked in the slow cooker - you can use any sort of fish of course, I'm just using tuna to illustrate. 
---
Seafood Lasagne
1 tbspn olive oil
1 finely chopped onion
1 clove peeled and crushed garlic
1 can chopped plum tomatoes or passata
1 handful fresh chopped basil
12 oz (300g) of mixed seafood (as above)
Sheets of dried lasagne/lasagna

Sauce
1 3/4 Cups (15 fl oz - 425 ml) milk
1 tbspn cornflour or thickener of your choice
small amount of milk to mix cornflour
1 tspn English Mustard powder
salt
pepper
1 Cup (8 oz/225g) grated hard full flavour cheese

To finish
grated fresh parmesan

Set your oven to Gas Mark 4, 350F or 180C.
Heat the oil in a pan, add the onion and garlic. Fry gently until softened.
Add the tomatoes and bring to the boil.
Add the seafood and basil. Simmer two or three minutes.
Make the sauce by bringing the milk to the boil.
Put the cornflour and mustard in a small mug or bowl and combine. Mix to a smooth paste with milk.
Take your pan off the heat and add your cornflour mixture, stirring all the time. Failure to do this, will result in a lumpy sauce :-(
Return the sauce to the heat and stir until thickened.
Bring the pan off the heat and add the grated cheese - stir to combine the cheese in with the white sauce.
Assemble the lasagne/lasagna in a shallow dish.
Start with a layer of cheese sauce and then seafood sauce. Add a layer of lasagne/lasagna sheets - break them up if necessary.
Then a layer of seafood sauce, then lasagne/lasagna sheets. Continue unil you have run out of sauce, making your last layer lasagne/lasagna sheets.
Pour your cheese sauce on top, making sure it covers the whole dish.
Sprinkle parmesan on top and bake in the oven for about 40 minutes.
Serve your hot seafood lasagne recipes with salad, crusty bread, garlic bread or pizza bread (with or without garlic butter)
The seafood sauce recipe can be used with any pasta as an alternative to bolgnese.

You may also like these recipes
If you like seafood lasagne recipes, you'll love these other seafood pasta recipes
Some of the links on this site include affiliate links, providing Find-a-Seafood-Recipe a small percentage of the sale at no additional cost to you. 

Subscribe to Seafood Recipe News - complete the form below.
Your email address is secure and will *only* be used to send Seafood Recipe News. When you confirm your subscription, you will be taken to a page where you can access your free eCourse. Complete the form and it will arrive over the following five days.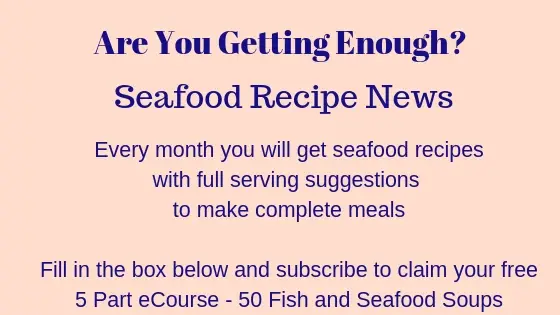 Seafood Lasagne Recipes
By Liz Alderson, Mar 25, 2017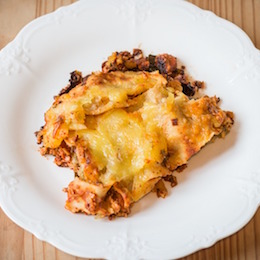 A really easy basic seafood lasagne recipe with suggestions for changes. Such a great meal to serve as part of a dinner party as you can prepare it ahead, leaving you free to concentrate on the rest of the meal or your guests.
Prep Time: 15 minutes

Cook time: 30 minutes

Yield: 4

Main Ingredient: seafood, canned or fresh, lasagne sheets, tomatoes, milk