Seafood Marinara Recipe
As an Amazon Associate I earn from qualifying purchases.

This seafood marinara recipe is authentically Italian - the delicious combination of seafood, tomatoes, wine and garlic will get your tastebuds going before the food reaches the table.
I like to serve the marinara over spaghetti or fettucine - the choice of pasta is yours, but boil about 1lb for four people. The instructions will be on the packet, but dried pasta generally takes around 8 minutes and fresh about 2 or 3 minutes.
The sauce is absolutely perfect and I often make it and put just canned tuna in - photo here to the left. 
---
Seafood Marinara Recipe
1lb (500g) prawns (shrimp)
8 oz (250g) scallops - cut in half
8 oysters
can (45g/1.5oz) anchovy fillets - drained, chopped

14 oz (400g) can/box chopped plum tomatoes
8 fl oz (250ml) white wine
2 tbspns olive oil
2 cloves garlic - peeled and crushed
1 onion - peeled and finely chopped
1 tbspn tomato puree
1 tbspn chopped fresh parsley
1 tbspn chopped fresh basil
black pepper - to serve
grated fresh parmesan - to serve

Heat the oil in a pan and fry the scallops for 1 minute - remove and set to one side.
Add the garlic and onion and fry until softened.
Add the tomatoes, wine and tomato puree and simmer for about 20 minutes until the sauce is slightly thickened. Just stir it occasionally so that it doesn't stick.
Add all the seafood and cook for a further 2 minutes or so.
Stir in the parsley and basil and serve over hot pasta.
The marinara sauce is very quick to make and one you will use regularly - the choice of seafood is yours - try some mussels, crab meat, clams or even canned tuna - up to you - frozen mixed would be great, defrost first or the sauce could be watery.  It doesn't have to be the expensive mix of shrimp, oysters and scallops, although I would recommend you use the anchovies or at least some anchovy essence for the fuller flavour. 

Cook's Notes

Tip

You can cook the sauce in advance - don't put the seafood in until the last minute though. You can also cook the pasta in advance. Cook 1 minute less than recommended and then when you're ready, boil a pan of water (with a dash of oil) and plunge the pasta in. It will take about a minute to heat through.



You're best to use chopped tomatoes and add some tomato puree to 'beef' up the flavour. Fresh tomatoes need to be very ripe to make a successful sauce so the canned/boxed variety is more reliable.
Freshly grated parmesan sprinkled over, some crusty bread to mop up the juices and you have a very quick and easy seafood recipe.
You can use any fish you fancy for this sauce - frozen mixed seafood, canned tuna, salmon, sardines - the choice is yours, but it's a really easy thing to make and can be store cupboard food.
You may also like these recipes
Some of the links on this site include affiliate links, providing Find-a-Seafood-Recipe a small percentage of the sale at no additional cost to you. 

Subscribe to Seafood Recipe News - complete the form below.
Your email address is secure and will *only* be used to send Seafood Recipe News. When you confirm your subscription, you will be taken to a page where you can access your free eCourse. Complete the form and it will arrive over the following five days.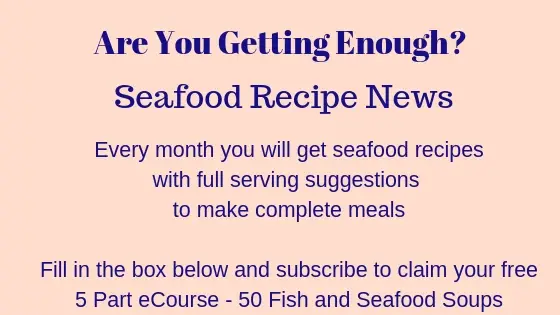 Salmon Marinara Recipe
By Liz Alderson
Such a versatile sauce, you'll use this with spaghetti, lasagne, on baked potatoes - the uses are endless and you'll be glad you found out how to do it. You can use fresh or canned fish.
Prep Time: 10 minutes

Cook time: 20 minutes

Yield: 4

Main Ingredient: canned or fresh fish, tomatoes, garlic, basil