Seafood Fettucini Recipe
As an Amazon Associate I earn from qualifying purchases.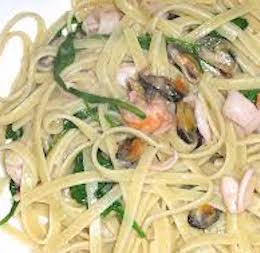 This seafood fettucini recipe is one of my favourites - I love pasta, but I don't like the meat sauces - I love seafood sauces. 
I keep a bag of mixed seafood cocktail in my freezer for this one - it defrosts pretty quickly if you open it and spread it out over a plate - drain it in a colander or sieve to get rid of the excess water before cooking. Don't rinse it, just let the water drip away. 
Once again, you can substitute shrimp for the mixed seafood cocktail  - canned tuna is a good option or a mixture of fresh fish fillets - skinned, boned and chopped. Chopped smoked salmon is a great choice too.
The only limit to seafood recipes is your imagination :-)
---
Seafood Fettucini
4 tbspns (1/4 cup) Olive oil
1 chopped onion
2 cloves of garlic, peeled and crushed
1 cup cream cheese
1/2 tspn dried basil, or about 12 fresh leaves chopped
salt and pepper to taste
12 oz (300g)(2 cups) mixed seafood
1/4 pt (150ml) (2/3 cup) white wine (drink the rest!)
2 tbspns freshly chopped parsley
1lb (450g) fettucini

Cook the fettucini according to the packet instructions and whilst it's cooking, you can get the sauce together.

Put the oil in a pan and when it's hot, fry the onion and garlic until softened - do not brown.
Add the cream cheese and wine and stir rapidly to make the sauce creamy.
At this point, you can start to drink the balance of the wine if you like :-)
Add the seafood cocktail to the pan and heat though for about 2 minutes - taste and add salt and pepper if required. Salt is rarely needed.
Drain and reserve some of the pasta water. 
Tip the pasta back into the pan and pour the sauce over. Mix thoroughly - if the sauce seems a bit thick, add a tablespoon of the pasta water to slacken it off.
Serve with freshly grated parmesan and a twist of black pepper.
You could make this seafood fettucini your very own - something different every time.

You may also like these recipes
Some of the links on this site include affiliate links, providing Find-a-Seafood-Recipe a small percentage of the sale at no additional cost to you. 

Subscribe to Seafood Recipe News - complete the form below.
Your email address is secure and will *only* be used to send Seafood Recipe News. When you confirm your subscription, you will be taken to a page where you can access your free eCourse. Complete the form and it will arrive over the following five days.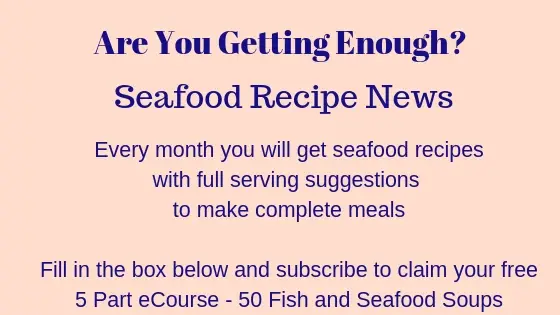 Seafood Fettucini Recipe
By Liz Alderson, Mar 25, 2017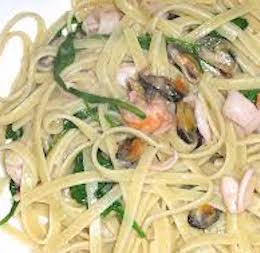 Such a quick and tasty meal, you can have this on the table quicker than you can order a takeaway.
Prep Time: 10 minutes

Cook time: 10 minutes

Yield: 4

Main Ingredient: fish of your choice, pasta, cream cheese