Scrambled Eggs with Smoked Salmon

As an Amazon Associate I earn from qualifying purchases.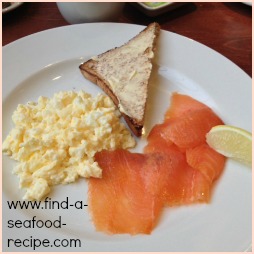 Scrambled eggs with smoked salmon is so easy to make and it is one of my favorite christmas breakfast recipes.
Step by step instructions to make the most delicious scrambled egg.
You will need eggs, smoked salmon slices, toast and lemon wedges.
Scrambled eggs take a minute or so to cook to perfection, so have your smoked salmon on a plate with the lemon wedge and the toast ready to be buttered prior to starting cooking the egg mixture.
---
Use 1 egg or 2 per person, depending on how hungry people will be and if you're serving anything else with the celebration breakfast.

Season with salt and pepper, add a splash of water - about 1 tablespoon per egg and beat with a fork until frothy - see the photo here.
This is a good time to prepare your plates and toast - your scrambled eggs are less than two minutes from being ready.

Melt a knob of butter until it's sizzling.

I use a small non-stick frying pan which I save especially for egg dishes - either scrambled or omelettes.
Tip the eggs in and using a plastic or silicone spatula (not metal) stir the eggs whilst they set.

Keep stirring over a medium heat and when they are just short of setting, remove them from the direct heat.

Continue to stir the eggs in the hot pan until they are as set as you like them.

Some people like them slightly runny, but I prefer them 'just' set.

Serve straight away with the smoked salmon as above.

You may also like these recipes
Some of the links on this site include affiliate links, providing Find-a-Seafood-Recipe a small percentage of the sale at no additional cost to you. 

Scrambled Eggs with Smoked Salmon - to Home

Subscribe to Seafood Recipe News - complete the form below.
Your email address is secure and will *only* be used to send Seafood Recipe News. When you confirm your subscription, you will be taken to a page where you can access your free eCourse. Complete the form and it will arrive over the following five days.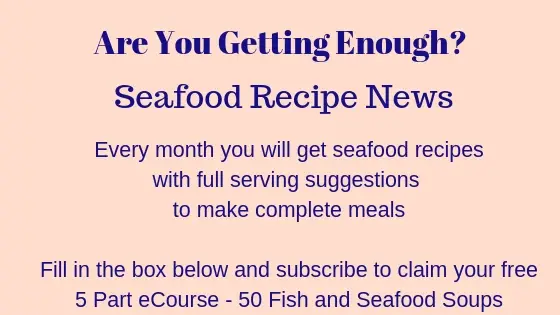 Find A Seafood Recipe

>
Smoked Fish
> Scrambled Eggs with Smoked Salmon
Scrambled Eggs with Smoked Salmon
By Liz Alderson, Mar 25, 2017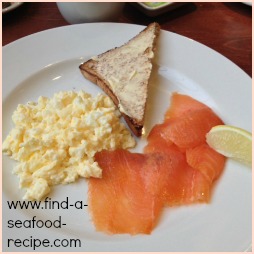 A luxurious breakfast of scrambled eggs with smoked salmon - fit for a king.
Prep Time: 5 minutes

Cook time: 10 minutes

Yield: 4

Main Ingredient: eggs, smoked salmon