Smoked Haddock Meal
As an Amazon Associate I earn from qualifying purchases.

Smoked Haddock Quick Meal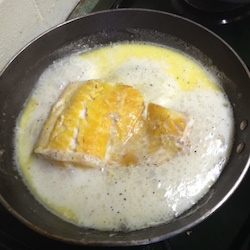 This smoked haddock meal is so quick - you can cook it for any amount of people, just using a fillet per person.
Cook an extra fillet to use for kedgeree or fish cakes another night. 
Skin it and take the bones out, then flake it and put it in a polythene box in the refrigerator. You can freeze it in a poly bag if you prefer to use it later than one or two days. Fish is best cooked and eaten fresh - not stored for too long as it goes off quite quickly.
The quantities are vague because you can cook this for one or more people. The important thing is to have just one layer of fish in the pan.
1 fillet per person
milk to cover
knob of butter per fillet
black pepper to taste 
You could also serve this with some mashed potato and green veg, such as peas or broccoli. Use the cooking milk to make parsley sauce to pour over and you'll have a superb meal in double quick time. Be careful to taste your sauce before you season it, as the smoked haddock is naturally salty and you might find you need no salt, only some pepper. Keep the cooked fish warm on a plate whilst you make the sauce. 
---
Take a fillet of smoked haddock per person.

Put the fillets skin side up in a frying pan and cover with milk, season with some pepper and dot with butter.
Bring the milk up to the boil and then turn down to simmer.
Leave about 2 minutes, then flip the fish over. Cook a further 3 minutes until the fish is cooked. It will flake easily when it's ready.
Serve with either crusty bread or fresh bread and butter to mop up the juices.
This is such a great meal if you're short of time. It's also a good meal if you live alone as it's one pan and ready in a flash.
You may also like these recipes using smoked haddock in a meal 
Some of the links on this site include affiliate links, providing Find-a-Seafood-Recipe a small percentage of the sale at no additional cost to you. 

Subscribe to Seafood Recipe News - complete the form below.
Your email address is secure and will *only* be used to send Seafood Recipe News. When you confirm your subscription, you will be taken to a page where you can access your free eCourse. Complete the form and it will arrive over the following five days.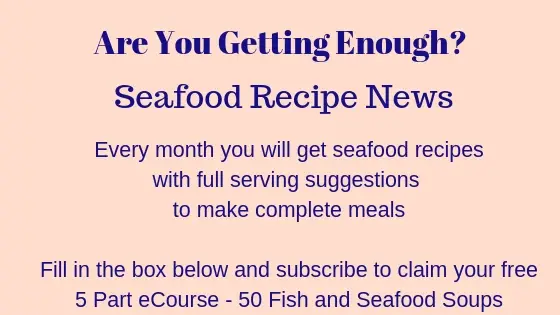 Smoked Haddock Meal
By Liz Alderson, Mar 25, 2017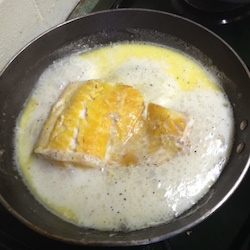 This smoked haddock meal can be ready in under 10 minutes - with some bread and butter or new potatoes, you've got a meal on the table in double quick time.
Prep Time: 2 minutes

Cook time: 5 minutes

Yield: 1 fillet per person

Main Ingredient: smoked haddock, milk, butter