Smoked Salmon Recipe
As an Amazon Associate I earn from qualifying purchases.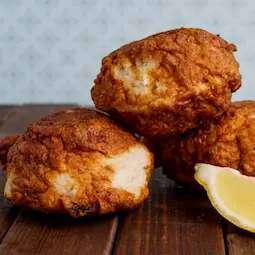 This first smoked salmon recipe is for making luxurious fish cakes.  There are links for many more at the bottom of the page. 
These fish cakes can be made in advance and kept in the fridge until you're ready to cook them.
You don't need a lot of salmon - about 1 oz (25g) per fish cake - so if you're making them for 4 people, then you will need about 8 oz (225g).
Supermarkets often have smoked salmon offcuts at bargain prices - the last pack I bought was 100g for 88 pence (sliced salmon was at least £1.99 for the same amount).
So it's as cheap as minced (ground) beef or canned fish.
These would make an excellent fish appetizer or with the addition of some buttered vegetables or brown bread and butter, they would make a great tea.
---
Smoked Salmon Fish Cakes

1 1/2 lbs (600g) new potatoes
200g smoked salmon
fresh chives
1 egg - beaten
Fresh ground black pepper
2 oz (50g) butter
2 tablespoons olive oil
soured cream to top
lemon wedges
fresh salad leaves to garnish

Boil the potatoes until they are just tender.
Drain them, allow to cool until you can handle them, then grate them into a large bowl.
Chop the salmon into small pieces and add it to the potato.
Snip the chives into the potato and season with a few twists of black pepper.
Mix thoroughly together with enough of the beaten egg to bind the mixture.
Shape into 8 rounds then pop into the fridge to chill for a couple of hours.
Heat the oil and butter in a pan.
Fry the cakes over a low heat for about 5 minutes each side until heated through and golden.
Serve two per portion with some soured cream and a lemon wedge.
Add salad leaves for a fish appetizer or buttered vegetables for a main course.
You may also like these recipes
Some of the links on this site include affiliate links, providing Find-a-Seafood-Recipe a small percentage of the sale at no additional cost to you. 

Subscribe to Seafood Recipe News - complete the form below.
Your email address is secure and will *only* be used to send Seafood Recipe News. When you confirm your subscription, you will be taken to a page where you can access your free eCourse. Complete the form and it will arrive over the following five days.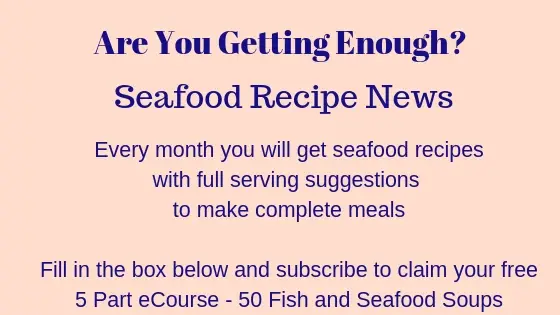 Smoked Salmon Recipe
By Liz Alderson, Mar 26, 2016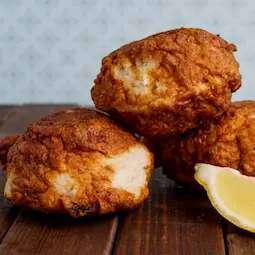 A very tasty variation on fish cakes. Smoked Salmon is often available in small pieces, the trimmings left when a whole side is being sliced. These are relatively inexpensive and are great for making pates, fish cakes and quiches. You get all the taste for less than half the price.
Prep Time: 10 minutes

Cook time: 10 minutes

Yield: 4

Main Ingredient: smoked salmon, potato, egg