Recipies for Seafood Scallops
Pasta and Scallops
As an Amazon Associate I earn from qualifying purchases.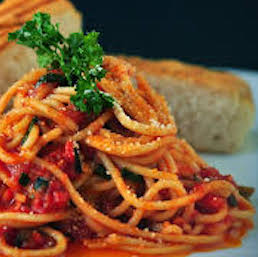 The tomato sauce I use as a base is so versatile - it will lend itself to any type of seafood you care to use.
Add some shrimp, canned fish or mussels to the sauce and pour over spaghetti or taglitelle.
I often cook up double quanities of this tomato base and freeze it for using another day - it is so useful to have a meal or two in 'stock' in the freezer.
---
Pasta with Scallops
1 lb (450g) spaghetti
2 tbspn olive oil
2 garlic cloves - peeled and crushed
1 large onion - peeled and chopped finely
1 can 14 oz (400g) peeled plum tomatoes - chopped
1 glass white wine (optional)
2 tspn dried basil
1 lb (450g) prepared scallops - sliced in half crossways

Heat half the oil in a frying pan, add the garlic and fry gently until softened. Add the scallops and cook for about 3 minutes. Remove the scallops with a slotted spoon and set to one side.
Add the rest of the oil and onions and cook until the onion is softened.
Add the can of tomatoes, white wine and basil and simmer for about 15 minutes until thickened.
Cook the spaghetti according to the instructions on the packet.
Add the scallops to the tomato sauce, heat through and serve immediately with lots of fresh parmesan.
****Tip****
Did you know, that you can cook pasta in advance and 'refresh' with boiling water.
What you do is bring a pan of water to the boil (or boil the kettle) and just dip the pasta in for about 1 minute - it's as good as new again.
************
You may also like these recipes
Some of the links on this site include affiliate links, providing Find-a-Seafood-Recipe a small percentage of the sale at no additional cost to you. 

Subscribe to Seafood Recipe News - complete the form below.
Your email address is secure and will *only* be used to send Seafood Recipe News. When you confirm your subscription, you will be taken to a page where you can access your free eCourse. Complete the form and it will arrive over the following five days.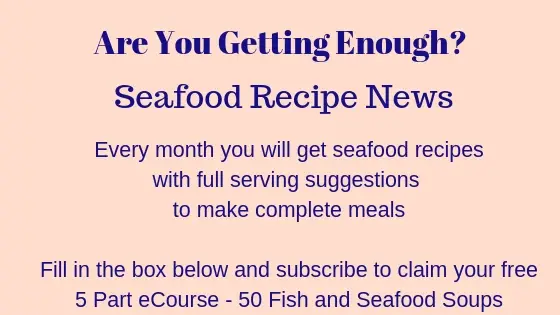 Recipe for Seafood Scallops
By Liz Alderson, Mar 30, 2016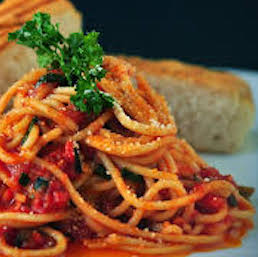 A very simple but tasty scallops recipe, using tomatoes for a sauce and mixing it with spaghetti. This can be on the table in double quick time.
Prep Time: 5 minutes

Cook time: 20 minutes

Yield: 4

Main Ingredient: scallops, pasta, tomato