Spicy Seafood Pasta

As an Amazon Associate I earn from qualifying purchases.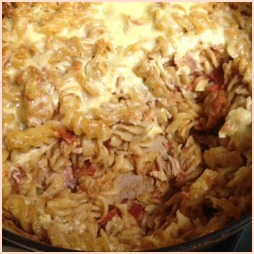 A spicy seafood pasta which is really quick and easy to make.
Use the sauce poured over spaghetti or linguine or as I have here, mixed into cooked pasta twists, covered and cheese and finished off in the oven.
This is a meal in itself, but if you like, you could serve some fresh crusty bread with it to mop up the juices.
It's a true storecupboard standby, and one pot meal.
This quantity would serve three people with good appetites.

---
Spicy Tomato Seafood Pasta
1 medium (7 oz, 200g) can of tuna - drained
1/2 cup (4 oz, 125g) cooked peeled shrimp - defrosted
1lb (14 oz, 400g) spaghetti/pasta
grated cheese to serve

Sauce
2 tablespoons olive oil
1 small onion - chopped finely
1 garlic clove - peeled and finely chopped
1 x large (15 oz, 425g) can of chopped peeled tomatoes
1 tablespoon tomato puree
small, (4 oz, 125ml) glass white wine - or water
1 teaspoon chilli powder

Heat the oil in a pan and gently cook the onion and garlic until soft and golden.
Add the tomatoes, puree and wine or water - simmer gently for about 20 minutes - the sauce should begin to thicken during this time.

Add the chilli powder and mix in thoroughly.
Taste and add more chilli if you want to.
Whilst you're waiting for the sauce - prepare the pasta according to the instructions on the pack.
Get a very large pan to boil the water in and add a splash of olive oil to prevent the pasta sticking - stir very well once the water is boiling to separate the strands.
Add the tuna and prawns to the sauce - heat through for about 2 minutes.
Serve the sauce over the drained spaghetti or linguine or tip the pasta into an oven proof dish, pour the sauce over, give it a good stir, cover in grated cheese and put it in a hot oven for about 15 minutes until the cheese has melted and is bubbling.

You can make this ahead, ready to put in a hot oven until heated through - about 40 minutes.

I would not simmer the sauce in the pan prior to adding the chilli if you were to do this - it will leave a bit more juice in the pasta for the longer cooking time.
If you have some stale bread, you can put it in the oven at the same time to freshen up the crusts - about 5 minutes is enough.

You may also like these recipes
Some of the links on this site include affiliate links, providing Find-a-Seafood-Recipe a small percentage of the sale at no additional cost to you. 

Subscribe to Seafood Recipe News - complete the form below.
Your email address is secure and will *only* be used to send Seafood Recipe News. When you confirm your subscription, you will be taken to a page where you can access your free eCourse. Complete the form and it will arrive over the following five days.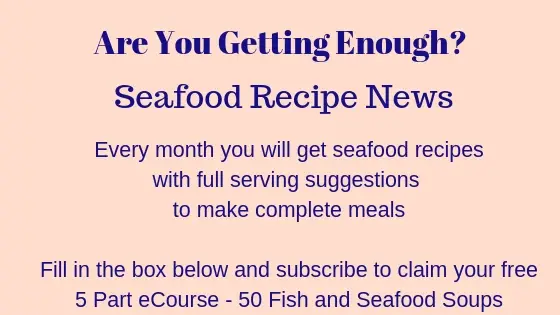 Spicy Seafood Pasta
By Liz Alderson, Mar 28, 2016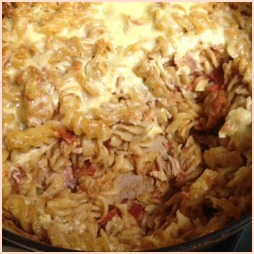 A fabulous spicy seafood pasta that you can make in double quick time. Adjust the amount of chilli you use to your own taste. You can use canned, frozen or fresh seafood.
Prep Time: 10 minutes

Cook time: 30 minutes

Yield: 4

Main Ingredient: canned tomatoes, pasta, seafood of your choice, chilli powder