Scallop Recipes
As an Amazon Associate I earn from qualifying purchases.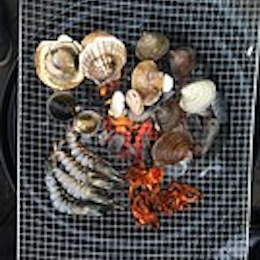 One of the easiest scallop recipes for the barbecue - wrapping them in brisket ensures they don't burn - just cook through to be succulent. It's commonly called 'burnt ends'.
You can either use leftover brisket, cook a joint especially for this recipe (and then have leftovers for sandwiches or salads) or buy sufficient brisket from the deli.
This recipe makes 12 pieces - depends how hungry everybody is as to how many that will serve - but it would be great as part of a mixed barbecue - surf and turf so to speak :-)
My friend Mike from Gas Grill Review has submitted this recipe and method for you. His site is an excellent resource for all things to do with gas grills.
---
Scallop Recipes - Burnt Ends
Here's a great recipe you can use if you have leftover "slow cooked" Brisket and don't know what to do with it.

First, you'll need 12 leftover slices of beef brisket and reserved beef drippings.
For anyone who does barbecue, you'll know that this is a full day of cooking all by itself. This is a great follow up meal or can be used as an appetizer.
Ingredients:
12 slices of slow cooked beef brisket
Reserved beef drippings
12 sea scallops

Dry Rub:
1/2 Tablespoon Salt
1/2 Tablespoon Paprika
1/2 Tablespoon Black Pepper
1/2 Tablespoon Sugar
3/4 Teaspoon Garlic Powder
1/2 Teaspoon Onion Powder
1/4 Teaspoon Dried Oregano
1/8 Teaspoon Ground Coriander

Cooking instructions:
Combine the dry rub ingredients in a bowl.
Then get a charcoal or wood fire started for "direct" grilling.
You'll want to apply some oil to the cooking grate to prevent sticking.
Lightly season the scallop with the dry rub.
While the grill is heating up, wrap each scallop with a slice of the brisket and secure it with a toothpick.
Once the fire is at about 400 F, grill the scallops directly over the hot coals and baste with the reserved beef drippings.
3 to 4 minutes on each side until the scallops are slightly firm (or internal temp is 130 F).
You may also like these recipes
Some of the links on this site include affiliate links, providing Find-a-Seafood-Recipe a small percentage of the sale at no additional cost to you. 

Subscribe to Seafood Recipe News - complete the form below.
Your email address is secure and will *only* be used to send Seafood Recipe News. When you confirm your subscription, you will be taken to a page where you can access your free eCourse. Complete the form and it will arrive over the following five days.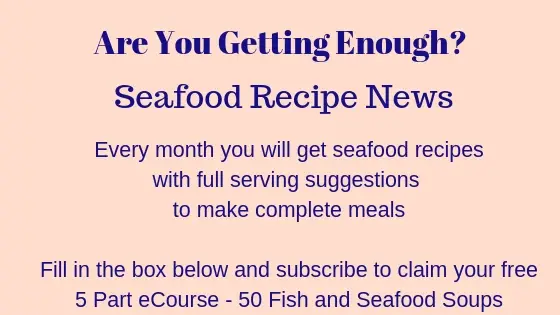 Scallop Recipes
By Liz Alderson, Mar 26, 2017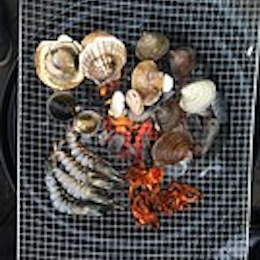 Ingenious way of cooking scallops on the grill to stop them overcooking, keeping them moist and full of flavor.
Prep Time: 5 minutes

Cook time: 10 minutes

Yield: 4

Main Ingredient: scallops, beef slices