New Orleans Seafood Gumbo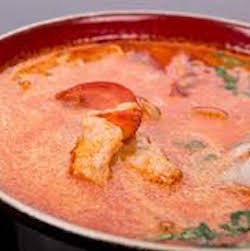 This is a simple version of New Orleans Seafood Gumbo.
Find the biggest (shrimp) you can for this recipe. In Louisiana, their shrimps are the size of lobsters! Not really - but they're big ;-)
The gumbo is thickened by the okra cooking down.
It makes a great meal if you serve it with rice and peas - just add some frozen peas to the rice water for the last few minutes - around 8 ozs will do.
I sometimes add frozen sweetcorn and pea mixture and also a smidge of tomato puree and a dash of cayenne or chilli powder to make it a bit spicy - depends on the taste of who is eating - some kids don't like very spicy food.
---
Seafood Gumbo

2 tbspns oil
1 clove garlic, peeled and crushed
1 large onion, peeled and chopped
1 red pepper, seeds removed and diced
1 green pepper, seeds removed and diced
8 oz (250g) okra, sliced
14 oz (400g) canned plum tomatoes, chopped
1/2 tspn allspice
1/2 tspn cayenne pepper
1lb (500g) peeled shrimp - large

Heat the oil in a large pan and fry the onion and garlic until softened.
Add the peppers and okra and cook for 5 minutes.
Add the tomatoes, allspice and cayenne pepper and simmer for about 25 minutes, until the gumbo is thickened.
Add the shrimp - heat through and serve with boiled rice.
A great, quick version of Seafood Gumbo.
For other versions, check out the Seafood Soup button. 50 Fish and Seafood Soup Recipes



You may also like these recipes
Find A Seafood Recipe

>
Seafood Soup Recipes
> New Orleans Seafood Gumbo
New Orleans Seafood Gumbo
By Liz Alderson, Mar 21, 2017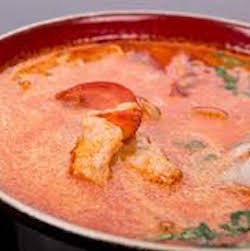 One pot cooking at its best - New Orleans Seafood Gumbo.
Prep Time: 5 minutes

Cook time: 20 minutes

Yield: 4

Main Ingredient: shrimp, okra,
---
Some of the links on this site include affiliate links, providing Find-a-Seafood-Recipe a small percentage of the sale at no additional cost to you. You are not obliged to use these links to make a purchase, but if you do, it helps to support this site and keep the content free.

---
---