Jamaican Fish Recipe
Jerk Snapper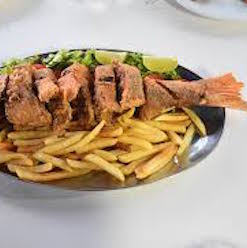 Jerking is actually a method of cooking in Jamaica - it is used very frequently as it's a lovely spicy taste which goes well with rice and peas.
Chicken, pork, fish or goat are marinated in jerk seasoning — either dry spices or a wet marinade like this recipe—then roasted in a pit or grilled slowly over wood coals.
---
Jerk Snapper
4 red snapper - about 12 oz (350g) each

Jamaican Jerk Sauce
1 chilli or jalapeno pepper, halved and seeded
4 spring onions (scallions) sliced
3 cloves garlic, peeled and crushed
2 inch piece of ginger - peeled and grated
2 tspns dried thyme
2 tspns dried allspice
Juice of 2 limes
10 fl oz (300ml) pineapple juice
10 fl oz (300ml)tomato juice

Put the sauce ingredients into a food processor and blend until smooth.
Slash the whole cleaned fish in several places and place them into a dish. Pour over the marinade and leave for about 30 minutes or so - turn a couple of times for the jerk sauce to soak into the flesh.
Grill for about 5 minutes per side - brush with the marinade to prevent the fish burning.
If you barbecue, then the instructions are the same - 5 minutes, brush and turn.
Serve with a salad and rice and peas.
If you enjoy this jamaican recipe, then you might like to know that a batch of jerk sauce will keep for about a month in the refrigerator - so you could make a double quantity to use for another meal.
I use the jerk sauce on wraps to give a lovely spicy flavor.
You may also like these recipes
Find A Seafood Recipe

>
Grills and Barbecues
> Jamaican Fish Recipe
Jamaican Fish Recipe
By Liz Alderson, Mar 19, 2016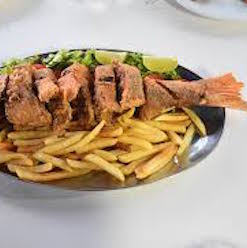 How to make Jerk Snapper.
Prep Time: 10 minutes

Cook time: 10 minutes

Yield: 4

Main Ingredient: Red Snapper
---
Some of the links on this site include affiliate links, providing Find-a-Seafood-Recipe a small percentage of the sale at no additional cost to you. You are not obliged to use these links to make a purchase, but if you do, it helps to support this site and keep the content free.

---
---